Oil & Gas: It's A Buyer's Market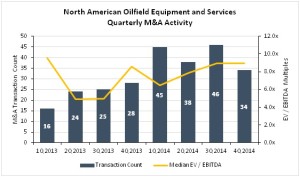 By Duane Donner, Managing Director
2015 Outlook
Most O&G companies are waiting out the volatility in the commodity markets before pulling the trigger on any further acquisition or capital spending plans; however, as the market begins to stabilize, many firms are expected to be on the hunt for acquisitions. As certain companies, especially those with greater financial leverage, struggle with cash flows and debt service requirements, well-capitalized companies will see the opportunity to increase market share and acquire assets at lower valuations.  Current conditions haven't stopped two OFS giants (HAL & BHI) from combining forces.
On the January 20, 2015 earnings call, Dave Lesar, Halliburton CEO, stated "I want to be clear that we remain committed to seeing this deal through despite the current macro headwinds facing the industry. In fact, as we continue to analyze the potential value creation opportunities of the combination, we believe the transaction is even more compelling today than when we announced it."
Overall, 2015 M&A activity is expected to be negatively impacted, and the typical valuation and deal structure is expected to become heavily less favorable for the seller. In a buyer's market expect to see more merger scenarios, deals heavier on stock and lighter on cash, and more structure/earn-outs on the OFS front. On the E&P side, operating companies are expected to shelve acquisition plans entirely and focus on internal cost cutting and operating efficiencies.
Private Equity Fundraising Continues
The changing dynamics in the domestic energy market will not necessarily deter financial buyer interest in oil and gas companies. With low commodity prices giving rise to a myriad of distressed investment opportunities, some private equity firms continue to actively raise capital destined for the oilfield.
Rob McCeney, PwC US Energy Infrastructure and Deals Partner, stated "If the price of oil continues to drop or remains at its current levels for a sustained period, we may see financial investors look to actively manage portfolio investments and search for new opportunities with distressed assets"

Moving Forward
Coming off a banner year for oilfield service M&A, we fully expect the transaction landscape to change with the falling tide of oil. With lowered expectations for 2015, activity levels may surprise some as value investors and strategic buyers look to be opportunistic and make timely acquisitions at discounted values. In addition, sellers will have options even in this market. Companies that can show resiliency on the topline and possibly gain market share in tough times will be attractive targets even with depressed margins. Buyers are willing to pay multiples in historic ranges for quality companies if the seller is willing to accept creative deal structure and share in the risk.  Joe Brady, Founders O&G Services Director, recently stated on an industry call, "It's going to take time for sellers to come to the realization that the deal they were entertaining six months ago has changed. Despite headwinds facing [OFS] companies in this market, we feel optimistic that quality companies will have viable options as the market separates the wheat from the chaff. There are some great partners out there looking for opportunities to combine synergies and weather the market together. If sellers are willing to accept less liquidity upfront, the combined entity could create more value on the other end of this cycle."
Founders Investment Banking (Founders) is a merger, acquisition & strategic advisory firm serving middle-market companies. Founders' focus is on oil and gas, industrials, software, internet, digital media and healthcare companies located nationwide, as well as companies based in the Southeast across a variety of industries. Founders' skilled professionals, proven expertise and process-based solutions help companies access growth capital, make acquisitions, and/or prepare for and execute liquidity events to achieve specific financial goals. In order to assist Founders Investment Banking with securities related transactions certain Principals are registered investment banking agents of M&A Securities Group, Inc., member FINRA/SiPC. M&A Securities Group and Founders are not affiliated entities. For more information, visit www.foundersib.com.