8 Reasons Subscribers Are Better At Creating Recurring Revenue Than Customers
By Chris Weingartner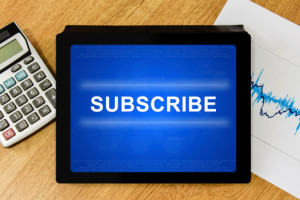 Over the past decade, there has been a shift in the strategic way businesses charge customers.  During the recent recession companies began to better understand the Lifetime Value of Customers, and many businesses and industries abandoned the legacy model of high initial installation or CapEx charges for their services.  They realized that over the long-run, they are able to increase their customers' lifetime value, and attract even more clients initially by switching to a subscription based model generating recurring revenue.
John Warrilow, one of the leading experts on the subscription based revenue model, recently released his book The Automatic Customer.  We highly recommend reading his entire book, but found particularly interesting the eight specific reasons that subscribers are better than customers.

1. They Increase the Value of Your Largest Asset – a company with quantifiable, highly predictable future revenue streams is worth more and has a lower discount rate applied on those future earnings, increasing the value of your company today.
2. They Increase the Lifetime Value of a Customer – In every one-shot sale, there is a possibility that the customer may go to a competitor the next time your service is needed. Subscribers create long-term relationships with your company, and as long as churn rates are low, will end up producing more revenue over their lifetime as a client.
3. They Smooth Out Demand – Subscribers enable business owners to effectively plan their business and allocate/purchase needed resources wisely. Businesses with subscribers can proactively manage their labor, inventory, and even fixed overhead better by closely knowing what volumes to plan for in the months ahead.
4. Free Market Research – Through the relationships built with subscribers, businesses can survey and poll their likes and dislikes. They can identify common pain points and upsell opportunities, as well as collect valuable data about subscribers' preferences to use in future operational decisions.
5. You Get Paid Automatically – Assuming subscribers pay via credit cards/EFT/ACH drafts, gone are the days of waiting 30-90 days for payment. On a recurring basis, customers automatically pay for your business' services and you have much quicker access to the cash.
6. They Make Your Customers Sticky – Through subscribing, customers are automatically entering into a contract where the convenience of uninterrupted automatic service is exchanged for their future loyalty. Rather than buying once and then deciding again in the future who to buy from, subscribers hopefully stick around for years.
7. Subscribers Buy More – Customers ideally love the regular service/goods they've subscribed for. Because of that, when they need a higher quantity or an ancillary product, they hopefully will turn to your business to fulfill that need.
8. They Recession-Proof Your Business – The long term maintenance and upkeep required for many products and services is something that customers cannot do without. A large office may not purchase 20 brand new copiers during an economic downturn, but there is no way they'll void their service contracts to keep the existing ones running.
Founders Investment Banking (Founders) is a merger, acquisition & strategic advisory firm serving middle-market companies. Founders' focus is on oil and gas, industrials, software, internet, digital media and healthcare companies located nationwide, as well as companies based in the Southeast across a variety of industries. Founders' skilled professionals, proven expertise and process-based solutions help companies access growth capital, make acquisitions, and/or prepare for and execute liquidity events to achieve specific financial goals. In order to assist Founders Investment Banking with securities related transactions certain Principals are registered investment banking agents of M&A Securities Group, Inc., member FINRA/SiPC. M&A Securities Group and Founders are not affiliated entities. For more information, visit www.foundersib.com.