Founders Hosts 3rd Annual SaaS and Internet Bama Bash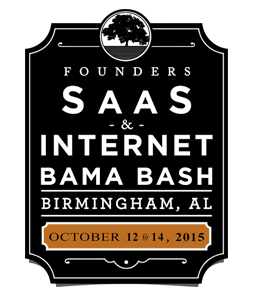 From October 12th – 14th, Founders hosted its annual SaaS and Internet Bama Bash at Ross Bridge Resort.  The third annual summit enabled more than forty CEOs and leaders of top technology companies and ten prominent technology-focused private equity groups to share best practices and engage in strategic discussions about growth, value and current industry trends.
The summit kicked off with the always popular Fireside Chat session, during which owners and entrepreneurs who have successfully built companies and created substantial wealth for themselves and their shareholders fielded questions about their experience and learnings from working with strategic and financial buyers.  Tuesday morning, attendees rose early to enjoy participating in one of three great activities:  the third annual golf scramble, sponsored by Atlas Digital Partners; a Sporting Clay Shootout at Selwood Farms, sponsored by Wells Fargo; or relaxing treatment at Ross Bridge's world-class European-style spa.
The summit then kicked off in earnest, with some of the best and brightest operators of and investors in SaaS and Internet companies covering pertinent topics for entrepreneurs, including: international expansion; talent recruitment and retention; automated and content marketing; and the history of private equity in the software and technology space.  The day culminated with the 3rd Annual Bama Bash, a celebration of Southern cuisine, hospitality and fellowship.  Over delicious ribs, pulled pork, smoked chicken and phenomenal sides, attendees continued to build relationships and socialize with other executives and entrepreneurs.
Wednesday was another superb day of crowdsourced content from industry leaders, as participants learned about best practices in utilizing new social outlets in advertising; the growth in available debt for technology companies; using M&A intelligently to drive a company's value; case studies in what was successful and unsuccessful in SaaS and Internet acquisitions; and pricing strategies designed to both capture maximum value while keeping customers happy.  The day concluded with an investor panel where the CEOs and business leaders were able to ask the private equity investors pressing questions that they had about growing and potentially selling their businesses.
Founders' team looks forward to the Fourth Annual Bama Bash in 2016 and again hosting innovative leaders and investors in the SaaS and Internet industries.  For more information on the summit, and to express interest in attending the event in 2016, please reach out to Chris Weingartner (cweingartner@foundersib.com) or Brad Johnson (bjohnson@foundersib.com)
To learn more about Founders Technology Practice, CLICK HERE
https://foundersib.com/technology/
Founders Investment Banking (Founders) is a merger, acquisition & strategic advisory firm serving middle-market companies. Founders' focus is on oil and gas, industrials, software, internet, digital media and healthcare companies located nationwide, as well as companies based in the Southeast across a variety of industries. Founders' skilled professionals, proven expertise and process-based solutions help companies access growth capital, make acquisitions, and/or prepare for and execute liquidity events to achieve specific financial goals. In order to assist Founders Investment Banking with securities related transactions certain Principals are registered investment banking agents of M&A Securities Group, Inc., member FINRA/SiPC. M&A Securities Group and Founders are not affiliated entities. For more information, visit www.foundersib.com.