Brad Johnson Named Rising Star of Money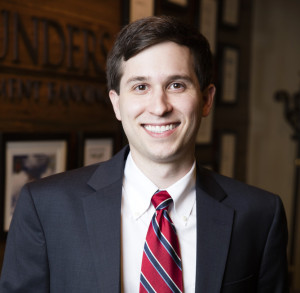 We are excited to announce that Brad Johnson, Vice President at Founders, was recently named one of Birmingham's Rising Stars of Money. Brad has displayed his natural leadership ability, drive, and knowledge since he began working at Founders as an undergraduate intern. We look forward to celebrating Brad's future successes and are thankful to have him on our team.
The BBJ 2016 Rising Stars of Money honors up-and-coming professionals in the fields of banking, finance, wealth management and other financial fields. All honorees are under 30 and were selected based on their accomplishments to date, their contributions to their companies, and their potential to become a leader in the industry.
It is an honor to have one of our very own recognized as one of the top young influential leaders in our industry. Congratulations, Brad!
About Founders Investment Banking
Founders Investment Banking (Founders) is a merger, acquisition & strategic advisory firm serving middle-market companies. Founders' focus is on oil and gas, SaaS/software, industrials, internet, digital media and healthcare companies located nationwide, as well as companies based in the Southeast across a variety of industries. Founders' skilled professionals, proven expertise and process-based solutions help companies access growth capital, make acquisitions, and/or prepare for and execute liquidity events to achieve specific financial goals. In order to provide securities-related services discussed herein, certain principals of Founders are licensed with M&A Securities Group, Inc. or Founders M&A Advisory, LLC, both members FINRA & SiPC. M&A Securities Group and Founders are unaffiliated entities. Founders M&A Advisory is a wholly owned subsidiary of Founders. For more information, visit www.foundersib.com.