Permian Performance Update
By: Vaughn McCrary
Production out of the Permian increased from both 2015 to 2016 and 2016 to 2017, which is tough to believe given the industry environment during the period. As seen in the figure below, the EIA expects Permian basin production to continue to increase over the next two years compared to relatively flat projections for the other major basins, including the Eagle Ford, Bakken, and Niobrara. The Permian region benefits from a couple distinct geological advantages. In addition to its sheer size relative to other basins, the Permian has numerous producing zones more than 1,000 feet thick that make up the stacked play. This compares to the Eagle Ford's producing zones of only 200 – 300 feet. With the proliferation of horizontal drilling, the difference in geology has contributed to extremely favorable economics, which are being noticed by many in the industry. James McManus, CEO at Energen, said on the Company's most recent earnings call, "We have gained a lot of efficiencies in our drilling and completion activities, and our per-unit operating costs continue to decline. As a result and in combination with high-quality rock, our outstanding assets in the Permian Basin generate excellent rates of return even at a $45 flat oil price." These favorable economics should continue to drive activity in the region.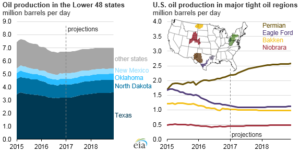 Source: EIA
For further reading, please visit the OFS Newsletter – February Edition – 2.15.17.

About Founders Investment Banking, LLC
Founders Investment Banking (Founders) is a merger, acquisition & strategic advisory firm serving middle-market companies. Founders' focus is on oil and gas, SaaS/software, industrials, internet, digital media and industrial technology companies located nationwide, as well as companies based in the Southeast across a variety of industries. Founders' skilled professionals, proven expertise and process-based solutions help companies access growth capital, make acquisitions, and/or prepare for and execute liquidity events to achieve specific financial goals. In order to provide securities-related services discussed herein, certain principals of Founders are licensed with M & A Securities Group, Inc. or Founders M&A Advisory, LLC, both members of member FINRA & SiPC. M&A Securities Group and Founders are unaffiliated entities. Founders M&A Advisory is a wholly-owned subsidiary of Founders. For more information, visit www.foundersib.com.