Greater New Orleans Private Company Forum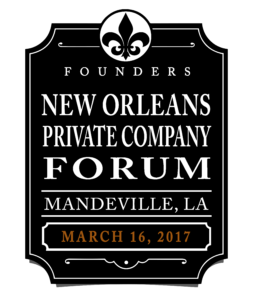 Founders recently hosted their spring Private Company CEO Forum at The Lakehouse, located in the historic Bechac House on Lake Ponchartrain in Mandeville, Louisiana.  Founders hosted 20 middle market companies represented by 28 executive guests for the half day event that included a culinary revival of South Louisiana cuisine. Helping co-hosted the event was Butler Snow law firm and Gulf Point Advisors both out of New Orleans, who helped contribute to the multifaceted view point and content for the guests. Mike Alexander, a Multi Asset Portfolio Strategist for BlackRock kicked off the forum with an insightful macroeconomic update and outlook for a Trump Economy. The group then gained an insightful M&A update, before digging into the core fundamentals of navigating the M&A markets with Duane Donner and the Founders team. To complete a full dose of South Louisiana hospitality, overnight guests were hosted at the quaint Southern Hotel in Covington, Louisiana. Founders Forums are designed to foster an environment that promotes fellowship with executives/business owners while provide insightful and timely information to make the best decisions strategic decisions for their company.
[Best_Wordpress_Gallery id="13″ gal_title="Greater NOLA Forum March 2017″]
About Founders Investment Banking, LLC
Founders Investment Banking (Founders) is a merger, acquisition & strategic advisory firm serving middle-market companies. Founders' focus is on oil and gas, SaaS/software, industrials, internet, digital media and industrial technology companies located nationwide, as well as companies based in the Southeast across a variety of industries. Founders' skilled professionals, proven expertise and process-based solutions help companies access growth capital, make acquisitions, and/or prepare for and execute liquidity events to achieve specific financial goals. In order to provide securities-related services discussed herein, certain principals of Founders are licensed with M & A Securities Group, Inc. or Founders M&A Advisory, LLC, both members of member FINRA & SiPC. M&A Securities Group and Founders are unaffiliated entities. Founders M&A Advisory is a wholly-owned subsidiary of Founders. For more information, visit www.foundersib.com.