Founders Investment Bank Advises Bulldog Media Group on its Recapitalization with Go Capital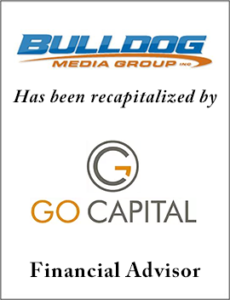 BIRMINGHAM, Ala. (May 3, 2017) – Founders Investment Banking, LLC is excited to announce that Go Capital LLC ("Go Capital") has completed a majority recapitalization of Bulldog Media Group, Inc. ("BMG" or the "Company"). BMG's shareholders were exclusively advised by principals of Founders Investment Banking ("Founders"). The transaction closed on February 28, 2017 and was led by Zane Tarence of Founders.
BMG is a leading performance marketing company that specializes in online customer acquisition for clients in the financial services industry. Formed in 2000 by industry veterans Todd Knodel, Darin Namken, and Chad Ekroth, BMG was an early pioneer and specialist in digital marketing for credit card issuers. Over time, the Company has broadened its technology and service offering to include (i) a leading cost-per-action network that helps issuers advertise to and convert targeted customers via partner publisher sites; (ii) database email marketing; (iii) digital traffic monetization services; and (iv) CreditSoup.com, a Company-owned online destination for personalized consumer credit products, monitoring, and information. Through this offering, BMG has grown to become one of the leading and most-trusted performance marketing platforms in the financial services industry today.
Go Capital is a private investment firm that focuses on identifying and investing in growing lower middle market businesses that can utilize digital customer acquisition strategies. The firm is led by Managing Partners Phil Brennan and Chris Duggan. Go Capital intends to help BMG grow through a number of initiatives including using data to personalize the credit shopping experience for the end consumer.
"The Bulldog team is excited to partner up with Phil and Chris to help drive continued growth and capitalize on significant opportunities actively on our plates and expected to be ahead," said Todd Knodel, BMG's CEO. "Their experience as operators and investors should be invaluable as our team continues to establish itself as one of the premier performance-based marketing platforms for our clients," said Darin Namken, BMG's President.
"The Founders team has had a long relationship with Todd, Darin, and Chad, and enjoyed the opportunity to work with them on the deal. It is rare to find a company in the space with their longevity and successful track record, and we are looking forward to the partnership between BMG and Go Capital and watching their continued growth and success ahead together. Any time we get the chance to bring two excellent groups together with the same goals and focus on the future, it is a great outcome," said Zane Tarence, Managing Director at Founders Investment Banking.
About Founders Investment Banking, LLC
Founders Investment Banking is a merger and acquisition advisory firm based in Birmingham, Alabama. Its team's proven expertise and process-based solutions help companies and business owners access capital and prepare for and execute liquidity events to achieve specific financial goals. The firm focuses on technology and specialty pharmacy clients across the United States, and industrial, oil and gas, and industrial technology clients located across the Southeast. For more information, visit www.foundersib.com. In order to provide securities-related services discussed herein, certain principals of Founders are licensed with M & A Securities Group, Inc. or Founders M&A Advisory, LLC, both members of member FINRA & SIPC. M&A Securities Group and Founders are unaffiliated entities. Founders M&A Advisory is a wholly-owned subsidiary of Founders. The testimonial presented herein does not guarantee future performance or success.
About Go Capital LLC
Go Capital LLC (www.gocapllc.com) is a private equity group focused on investing in growing lower middle market companies that can utilize digital customer acquisition strategies. The Managing Partners of Go Capital bring experience in strategy, marketing, operations and finance, having invested in, grown, and exited several businesses. Go Capital seeks majority investment opportunities in businesses with over $2 million in annual EBITDA in the digital/web-enabled, business services, and consumer sectors.