Alabama MA Activity Q1 2017
By: Wesley Legg
According to Capital IQ and Founders proprietary sources, there were an estimated 25 transactions involving Alabama companies completed in the first quarter of this year, an increase of 39% versus the same quarter last year. M&A activity was down 20% quarter over quarter, however the fourth quarter often has more activity as companies seek to close prior to year-end. Most of the transactions completed in the first quarter were sub $10 million in enterprise value, however there were some larger transactions in the mix, including the sale of Sequel Youth and Family Services, LLC based in Huntsville, Alabama, which was sold by Alaris Royalty Corp. (TSX:AD) to Global Partner Acquisition Corp. (NasdaqCM:GPAC) for a little over $300 million.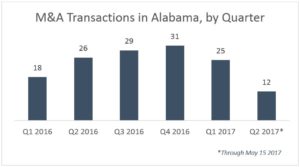 Founders represented two Alabama companies that closed in the first quarter, namely OHD and Bravo Food Systems:
Occupational Health Dynamics, Inc. (OHD) of Birmingham, Alabama was acquired by Schauenburg Group, a prominent family-owned holding company in Germany. OHD provides industrial hygiene instrumentation and services to a variety of occupational safety markets including general industry, manufacturing, first responders, and government. Schauenburg Group functions as a holding company dedicated to industrial enterprises. The emphasis is on profitable businesses managed by skilled individuals and specializing in niche technologies.
Bravo Food Service, LLC (Bravo), a leading franchisee of Little Caesars in the Southeast, was acquired by Four Foods Group. Bravo was started in 2002 by the Arias family, and through organic growth became one of the nation's largest Little Caesars franchisees with 48 locations across Central Alabama and Baton Rouge, Louisiana.
About Founders Investment Banking
Founders Investment Banking (Founders) is a merger, acquisition & strategic advisory firm serving middle-market companies. Founders' focus is on oil and gas, SaaS/software, industrials, internet, digital media and industrial technology companies located nationwide, as well as companies based in the Southeast across a variety of industries. Founders' skilled professionals, proven expertise and process-based solutions help companies access growth capital, make acquisitions, and/or prepare for and execute liquidity events to achieve specific financial goals. In order to provide securities-related services discussed herein, certain principals of Founders are licensed with M & A Securities Group, Inc. or Founders M&A Advisory, LLC, both members of member FINRA & SiPC. M&A Securities Group and Founders are unaffiliated entities. Founders M&A Advisory is a wholly-owned subsidiary of Founders. For more information, visit www.foundersib.com.