Q1 2017 Oilfield Service Update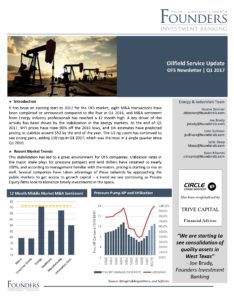 As reported in the first quarter Oilfield Service (OFS) Newsletter, 2017 has been a great year for those servicing the oilfield. OPEC's decision to reduce output by 1.2MM bo/d in November of 2016 kicked off an energy rebound that has brought a renewed sense of security to those servicing the industry. Rig counts have increased 18 weeks in a row and the price of oil has crested $50 for the first time since 2015. OPEC is expected to announce a decision to keep the production cuts in place in its upcoming meeting on May 25th, which could drive bullish energy sentiment through the remainder of 2017.
In this Newsletter, we also further discuss how the rebound in energy prices has specifically affected pressure pumpers and land drillers. Utilization rates are near all-time highs, driving consolidation of quality assets and pursuit of capital from public markets. We profile two recent pressure pumper IPOs, Keane Group, and ProPetro, and provide an M&A outlook for the remainder of the year.
View the Q1 2017 Oilfield Services Update
About Founders Investment Banking
Founders Investment Banking (Founders) is a merger, acquisition & strategic advisory firm serving middle-market companies. Founders' focus is on oil and gas, SaaS/software, industrials, internet, digital media and industrial technology companies located nationwide, as well as companies based in the Southeast across a variety of industries. Founders' skilled professionals, proven expertise and process-based solutions help companies access growth capital, make acquisitions, and/or prepare for and execute liquidity events to achieve specific financial goals. In order to provide securities-related services discussed herein, certain principals of Founders are licensed with M & A Securities Group, Inc. or Founders M&A Advisory, LLC, both members of member FINRA & SiPC. M&A Securities Group and Founders are unaffiliated entities. Founders M&A Advisory is a wholly-owned subsidiary of Founders. For more information, visit www.foundersib.com.