Q1 2017 Industrials Update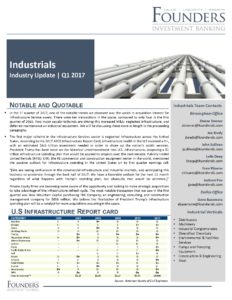 As reported in the Q1 2017 Industrials Update, we discuss two major tailwinds affecting the sector; an aging U.S. infrastructure and deferred maintenance on industrial companies. We believe that President Trump's proposed $1 trillion infrastructure spending plan will be a key business driver over the next decade, and Private Equity Firm's willingness to deploy capital into these assets in Q1 confirms our thesis. We also take a closer look at how low energy prices have positively affected refiners and chemical producers, causing them to defer much needed maintenance on aging facilities.
With multiple tailwinds at industry's back, look for an active M&A market over the next 12-24 months.
View the Q1 2017 Industrials Update.
About Founders Investment Banking
Founders Investment Banking (Founders) is a merger, acquisition & strategic advisory firm serving middle-market companies. Founders' focus is on oil and gas, SaaS/software, industrials, internet, digital media and industrial technology companies located nationwide, as well as companies based in the Southeast across a variety of industries. Founders' skilled professionals, proven expertise and process-based solutions help companies access growth capital, make acquisitions, and/or prepare for and execute liquidity events to achieve specific financial goals. In order to provide securities-related services discussed herein, certain principals of Founders are licensed with M & A Securities Group, Inc. or Founders M&A Advisory, LLC, both members of member FINRA & SiPC. M&A Securities Group and Founders are unaffiliated entities. Founders M&A Advisory is a wholly-owned subsidiary of Founders. For more information, visit www.foundersib.com.