Founders Investment Banking Advises Retirement Online LLC in Sale to Investopedia, an operating business of IAC (NASDAQ: IAC)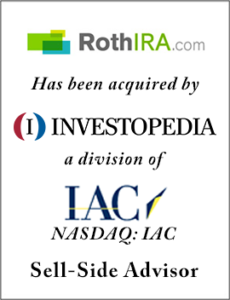 Founders Investment Banking, LLC is pleased to announce that Retirement Online LLC d/b/a RothIRA.com (Roth IRA) has been acquired by Investopedia, a wholly owned subsidiary of IAC (NASDAQ: IAC). Roth IRA was exclusively advised by principals of Founders Investment Banking. The transaction closed on April 24, 2017 and was led by Zane Tarence of Founders.
Roth IRA, a leading online retirement education provider, aims to explain and simplify the complicated world of retirement savings. The site's focus is on Roth IRAs, one of the primary investment vehicles used and available to most consumers. Led by CEO Erik Budde, the site leveraged a team of editors, writers and retirement experts with experience at renowned publishers including Kiplinger's, the Wall Street Journal, New York Times, Smart Money, Intuit, Microsoft and Yahoo. This team developed informative and actionable content for users to help drive informed decisions and investing strategies.
"Investopedia has become a household name for individuals seeking to better understand the complex world of investing, and I look forward to Roth IRA augmenting their offering about one of the principal retirement vehicles for consumers. The Founders team did an excellent job of identifying IAC as a great potential partner, and helping negotiate and close a deal to bring Roth IRA under the Investopedia umbrella," said Erik Budde.
Wholly owned by IAC (NASDAQ: IAC), Investopedia is the largest financial education website in the world. Investopedia is powered by data scientists and financial experts; it offers timely, trusted and actionable financial information for every investor, from early investors to financial advisors to high net worth individuals. IAC is a leading media and Internet company comprised of widely known consumer brands such as HomeAdvisor, Vimeo, Dictionary.com, The Daily Beast and Match Group's online dating portfolio, which includes Match, Tinder, PlentyOfFish and OkCupid. For more than 20 years, IAC has been a trailblazer at the crossroads of e-commerce, media and the Internet. Since its beginning days in 1995, IAC has created 10 public companies, including Match Group, Expedia, TripAdvisor, HSN, Tree, Interval, and Live Nation (formerly Ticketmaster), totaling in excess of $43 billion of value. Investopedia is part of IAC Publishing, IAC's collection of some of the web's largest and most trusted digital media brands.
"Erik's story is one that we've seen multiple times now and never get tired of," remarked Zane Tarence, Managing Director of Founders Investment Banking. "A single individual with a passion for a subject can end up educating a targeted audience and build a nice business while doing so, and that is exactly what Erik was able to do with Roth IRA. IAC has a great team within their Investopedia brand, and I look forward to watching Roth IRA continue to flourish under the ownership of IAC in the coming months and years."
About Founders Investment Banking
Founders Investment Banking (Founders) is a merger, acquisition & strategic advisory firm serving middle-market companies. Founders' focus is on oil and gas, SaaS/software, industrials, internet, digital media and industrial technology companies located nationwide, as well as companies based in the Southeast across a variety of industries. Founders' skilled professionals, proven expertise and process-based solutions help companies access growth capital, make acquisitions, and/or prepare for and execute liquidity events to achieve specific financial goals. In order to provide securities-related services discussed herein, certain principals of Founders are licensed with M & A Securities Group, Inc. or Founders M&A Advisory, LLC, both members of member FINRA & SiPC. M&A Securities Group and Founders are unaffiliated entities. Founders M&A Advisory is a wholly-owned subsidiary of Founders. For more information, visit www.foundersib.com.