Q2 2017 Oilfield Service Update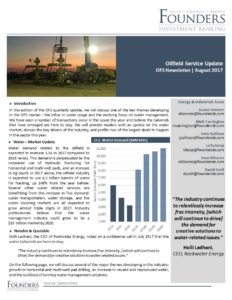 By Duane Donner
The oilfield water management market is a $26.7 billion industry, expected to grow ~30% from 2017 – 2020. Shifts in drilling techniques aimed at lowering breakeven prices have increased water usage per well by an average of 85% across all major shale basins, leading to a major ripple effect (pun intended) on those servicing the industry. The water transportation, water storage, and water sourcing markets are all expected to grow triple digits from 2016 levels, and industry professionals believe that double digit growth is here to stay.
The continued increase use of multi-well pads is a key driver of this future growth. A typical single stage frac on a vertical well uses ~5,000 barrels of water, compared to the 500,000 barrels of water used for a multi-stage frac job on a horizontal well. Historically, this water was primarily acquired from fresh water sources, however, advancements in water recycling and treatment technology has allowed much of this water to be reused. The water treatment market is expected to grow 40% from 2017 – 2020.
Players in the water management market are consolidating in 2017, as they look to build out turnkey water solutions for operators. There have been two large transactions to occur in the space this year, Crescent Companies being purchased by Rockwater, and Rockwater being purchased by publicly traded, Select Energy Services (NYSE: WTTR).
For more information on the water management market, and a profile of these transactions mentioned above, please read our August edition of the OFS newsletter.
View the Q2 2017 Oilfield Services Update
About Founders Investment Banking
Founders Investment Banking (Founders) is a merger, acquisition & strategic advisory firm serving middle-market companies. Founders' focus is on oil and gas, SaaS/software, industrials, internet, digital media and industrial technology companies located nationwide, as well as companies based in the Southeast across a variety of industries. Founders' skilled professionals, proven expertise and process-based solutions help companies access growth capital, make acquisitions, and/or prepare for and execute liquidity events to achieve specific financial goals. In order to provide securities-related services discussed herein, certain principals of Founders are licensed with M & A Securities Group, Inc. or Founders M&A Advisory, LLC, both members of member FINRA & SiPC. M&A Securities Group and Founders are unaffiliated entities. Founders M&A Advisory is a wholly-owned subsidiary of Founders. For more information, visit www.foundersib.com.