Q2 2017 Industrial Service Update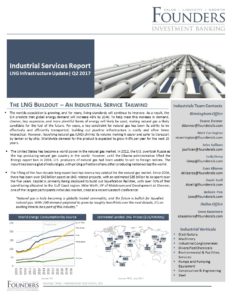 The EIA predicts that global energy demand will increase nearly 50% by 2048. In order to support that growth, less expensive, more plentiful, and cleaner forms of energy will have to be used – making natural gas a likely candidate for the fuel of the future. The United States is the world's top producer of the commodity, and prior to the lifting of the energy export ban in 2016, has been unable to export it to foreign nations. The result has been a glut of natural gas, with pricing a fraction of other worldwide producers.
In order to efficiently transport natural gas, it must be cooled to -260F to bring it to liquid form; the end product of this process is called liquefied natural gas, or LNG. Since the lifting of the export ban in 2016, $45 billion has been spent on infrastructure to assist in the liquefaction process, with the majority of that spend being allocated to the Gulf Coast.
Despite the prolific build out of these facilities over the last 18 months, industry professionals are now concerned that a potential global oversupply of the commodity could make it difficult to justify new LNG projects. The Louisiana Center for Energy Studies believes that energy related capex on the Gulf Coast peaked in 2016 and will decline 90% over the next five years.
To learn more about the key trends evolving around LNG, and to get more details on energy related capex, take a look at our second quarter industrial services newsletter.
View the Q2 2017 Industrial Services Update
About Founders Investment Banking
Founders Investment Banking (Founders) is a merger, acquisition & strategic advisory firm serving middle-market companies. Founders' focus is on oil and gas, SaaS/software, industrials, internet, healthcare, digital media and industrial technology companies located nationwide, as well as companies based in the Southeast across a variety of industries. Founders' skilled professionals, proven expertise and process-based solutions help companies access growth capital, make acquisitions, and/or prepare for and execute liquidity events to achieve specific financial goals. In order to provide securities-related services discussed herein, certain principals of Founders are licensed with M & A Securities Group, Inc. or Founders M&A Advisory, LLC, both members of member FINRA & SiPC. M&A Securities Group and Founders are unaffiliated entities. Founders M&A Advisory is a wholly-owned subsidiary of Founders. For more information, visit www.foundersib.com.