Q2 2017 SaaS Industry Update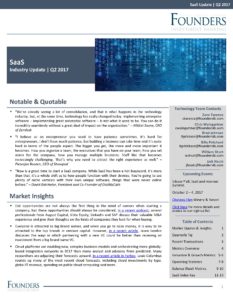 Every owner/operator should be diligently tracking and benchmarking against their competition. Prospective customers are always shopping solutions, and a variety of factors contribute to their ultimate decision of whether to go with your company's solution, or a competitor's. Effectively keeping tabs on competitors allows you to make educated decisions on pricing, your product road map, features and functions, and marketing.  In Founders Q2 2017 SaaS Market Newsletter we discuss several techniques and methodologies we suggest considering when keeping tabs on your rivals.
Also included in this edition of our SaaS Market Newsletter:
Comments and insights from industry participants
Key SaaS competitor research suggestions
Valuation and recent transaction data
Information on our 5th annual SaaS & Internet Summit – Silicon Y'all. This is a very unique gathering that is a must-attend event for SaaS professionals and business owners.
Follow the link to read the Newsletter – Industry Update Q2 2017.
About Founders Investment Banking
Founders Investment Banking (Founders) is a merger, acquisition & strategic advisory firm serving middle-market companies. Founders' focus is on oil and gas, SaaS/software, industrials, internet, healthcare, digital media and industrial technology companies located nationwide, as well as companies based in the Southeast across a variety of industries. Founders' skilled professionals, proven expertise and process-based solutions help companies access growth capital, make acquisitions, and/or prepare for and execute liquidity events to achieve specific financial goals. In order to provide securities-related services discussed herein, certain principals of Founders are licensed with M & A Securities Group, Inc. or Founders M&A Advisory, LLC, both members of member FINRA & SiPC. M&A Securities Group and Founders are unaffiliated entities. Founders M&A Advisory is a wholly-owned subsidiary of Founders. For more information, visit www.foundersib.com.