Founders Hosts Oilfield Services Social at LAGCOE 2017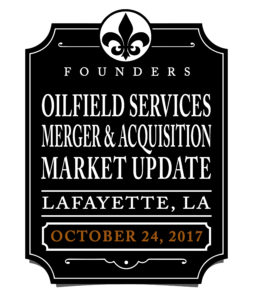 Founders recently hosted an Oilfield Services social and M&A Market Update in conjunction with LAGCOE 2017, in Lafayette, Louisiana on October 24th. Industry CEO's, business owners and select industry professionals met for cocktails and hors d'oeurvres on the deck at Ruffino's on the River, one of Lafayette's best restaurants.  After networking and enjoying some South Louisiana hospitality, Duane Donner, Managing Partner of Founders, along with the Energy and Industrials Practice team provided an Oilfield Services market update.  The group enjoyed a timely and informative strategic presentation with discussion about the current market for Oilfield Services M&A and how to properly position your business to take advantage of the window of opportunity both on the buy and sell side.

About Founders Advisors
Founders Advisors (Founders) is a merger, acquisition & strategic advisory firm serving middle-market companies. Founders' focus is on oil and gas, SaaS/software, industrials, internet, healthcare, digital media and industrial technology companies located nationwide, as well as companies based in the Southeast across a variety of industries. Founders' skilled professionals, proven expertise and process-based solutions help companies access growth capital, make acquisitions, and/or prepare for and execute liquidity events to achieve specific financial goals. In order to provide securities-related services discussed herein, certain principals of Founders are licensed with M & A Securities Group, Inc. or Founders M&A Advisory, LLC, both members of member FINRA & SiPC. M&A Securities Group and Founders are unaffiliated entities. Founders M&A Advisory is a wholly-owned subsidiary of Founders Advisors, LLC. Neither Founders M&A Advisory nor Founders Advisors, LLC provide investment advice. For more information, visit www.foundersib.com.