Founders Q3 2017 Oilfield Services Update
In the Founders' Q3 2017 Oilfield Services Update we recap the year behind us and provide insight into developing trends in the industry. We also discuss developments in the energy markets over the last 12 months and how they will impact service companies as we head into the new year.
The top energy story of 2017 is the rise in oil prices in the second half of the year. This rise in oil prices led to an increase in M&A activity; we provide information on fourteen transactions in the space over the last several months.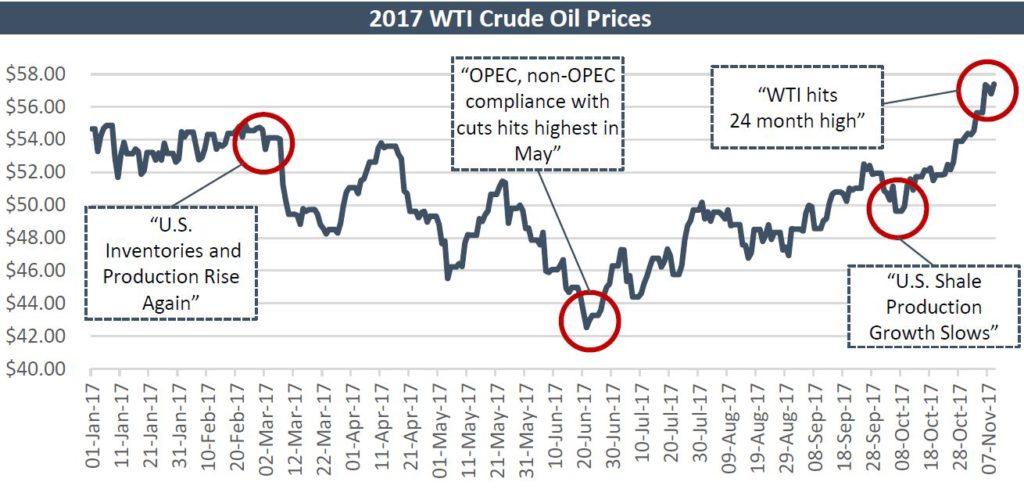 Other trends and developments in this newsletter include:
Lower Breakeven Prices Are Driving Activity
Drilled but Uncompleted Wells (DUC) are at a 10-Year High
Oil Production in the United States
2018 Rig Count Outlook
E&P Company Capex Outlook
Global Energy Market Supply / Demand Forecast
Timing for M&A in the Energy Market

About Founders Advisors
Founders Advisors (Founders) is a merger, acquisition & strategic advisory firm serving middle-market companies. Founders' focus is on oil and gas, SaaS/software, industrials, internet, healthcare, digital media and industrial technology companies located nationwide, as well as companies based in the Southeast across a variety of industries. Founders' skilled professionals, proven expertise and process-based solutions help companies access growth capital, make acquisitions, and/or prepare for and execute liquidity events to achieve specific financial goals. In order to provide securities-related services discussed herein, certain principals of Founders are licensed with M & A Securities Group, Inc. or Founders M&A Advisory, LLC, both members of member FINRA & SiPC. M&A Securities Group and Founders are unaffiliated entities. Founders M&A Advisory is a wholly-owned subsidiary of Founders Advisors, LLC. Neither Founders M&A Advisory nor Founders Advisors, LLC provide investment advice. For more information, visit www.foundersib.com