Founders Q3 2017 Industrial Services Update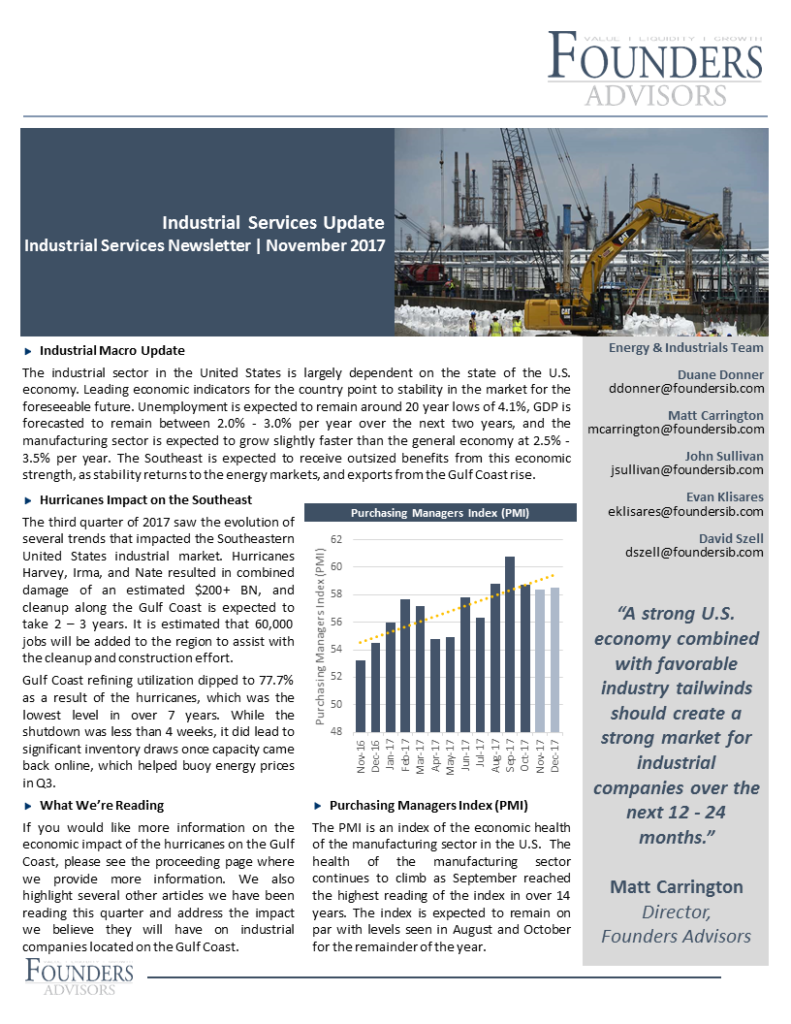 By: Duane Donner
The Industrial Services market is dependent on the state of U.S. economy. In this quarter's edition of the Industrial Services newsletter, we provide readers with the key economic metrics that will impact Southeastern industrial services companies over the next 12 – 24 months; the list includes PMI, an update on the labor market, and forecasted GDP.
Readers will also receive an update on the industrial service M&A market, which includes relevant transactions and multiples, along with summaries of some of the key trends we see evolving in the Southeast. Below are highlights:
Port Cameron's Addition of a Deepwater Port
The Economic Impact of Recent Hurricanes
The Comeback of the Textile Industry in the Southeast
Strong Construction Growth YoY
The Growth of ISA Distributors and Suppliers
View the  Founders Q3 2017 Edition – Industrial Services Update.
About Founders Advisors
Founders Advisors (Founders) is a merger, acquisition & strategic advisory firm serving middle-market companies. Founders' focus is on oil and gas, SaaS/software, industrials, internet, healthcare, digital media and industrial technology companies located nationwide, as well as companies based in the Southeast across a variety of industries. Founders' skilled professionals, proven expertise and process-based solutions help companies access growth capital, make acquisitions, and/or prepare for and execute liquidity events to achieve specific financial goals. In order to provide securities-related services discussed herein, certain principals of Founders are licensed with M&A Securities Group, Inc. or Founders M&A Advisory, LLC, both members of member FINRA & SiPC. M&A Securities Group and Founders are unaffiliated entities. Founders MA Advisory is a wholly-owned subsidiary of Founders Advisors, LLC. Neither Founders M&A Advisory nor Founders Advisors, LLC provide investment advice. For more information, visit www.foundersib.com