Founders Advises Another Broken Egg of America in its Majority Recapitalization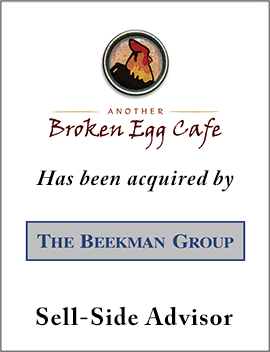 BIRMINGHAM, Ala. (December 7, 2017) – Founders Advisors, LLC ("Founders") is pleased to announce that its principals served as the exclusive financial advisor to Another Broken Egg of America ("Another Broken Egg") in its majority recapitalization by The Beekman Group. The transaction closed on October 16, 2017, and was led by Duane P. Donner II, Mike McCraw, and John W. Sullivan of Founders.
Headquartered in Miramar Beach, Florida, and founded as a franchising company in 2000, Another Broken Egg operates and franchises full-service restaurant cafes serving southern-inspired breakfast, brunch and lunch options. Its restaurants feature an expanding selection of traditional and innovative menu items ranging from seasonal specialties to handcrafted signature cocktails. The company takes pride in its Southern heritage, and is committed to providing exceptional hospitality in a comfortable and distinguished atmosphere.
Ron Green, Founder of Another Broken Egg, noted "Founders' knowledge and experience was crucial in helping us to source and select the right partner for Another Broken Egg. The team did an outstanding job negotiating the deal, leading us throughout the process and getting the transaction closed," he added. "Founders' Strategic Advisory practice, led by Mike McCraw, helped us grow and professionalize our brand, and put us in position for this partnership. Working with Founders has been extremely rewarding."
Mike McCraw, Managing Director at Founders, said "It has been a tremendous experience for Founders to work with Ron Green and his team on the evolution of Another Broken Egg and the recapitalization of the company. We are delighted to have been able to serve on both the strategic advisory and recapitalization efforts, and we look forward to seeing the future success of Another Broken Egg with The Beekman Group. This is a great example of the restaurant industry partnerships we facilitate."
About Founders Advisors
Founders Advisors (Founders) is a merger, acquisition, & strategic advisory firm serving middle-market companies. Founders' focus is on oil and gas, SaaS/software, industrials, internet, healthcare, digital media and industrial technology companies located nationwide, as well as companies based in the Southeast across a variety of industries. Founders' skilled professionals, proven expertise and process-based solutions help companies access growth capital, make acquisitions, and/or prepare for and execute liquidity events to achieve specific financial goals. In order to provide securities-related services discussed herein, certain principals of Founders are licensed with M & A Securities Group, Inc. or Founders M&A Advisory, LLC, both members of member FINRA & SiPC. M&A Securities Group and Founders are unaffiliated entities. Founders M&A Advisory is a wholly-owned subsidiary of Founders. For more information, please visit www.foundersib.com.