Founders Advises Veteran's Oil, Inc. in its sale to Pugh-Apollo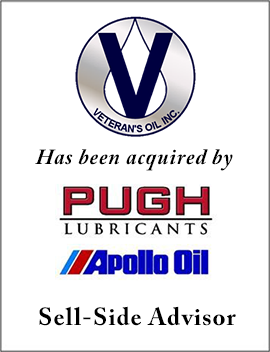 BIRMINGHAM, Ala. – Founders is pleased to announce that Pugh Lubricants and Apollo Oil (Pugh-Apollo) has acquired Veteran's Oil, Inc., a leading fuel and lubricant distributor based in Birmingham, AL.  The Company, founded after World War II in 1945, will operate alongside Pugh-Apollo in the lubricant distribution space.  Jason Musgrove, grandson of the Company's original founder, will continue to lead the operations of Veteran's Oil at their facilities in Bessemer, AL; Montgomery, AL; and Austell, GA.
Veteran's joins the Pugh-Apollo lubrication and fuel distribution to cover an even more extensive territory.  The three entities combined now can provide superior service and products across the South and Midwest, including: Alabama; Arkansas; Georgia; Indiana; Kentucky; Missouri; Mississippi; North Carolina; Ohio; South Carolina; Tennessee; Virginia; and West Virginia.  Joining the Pugh-Apollo platform will allow Veteran's the opportunity to expand their product offering, as well as capitalize on economies of scale and operating efficiencies.  Veteran's marks the entry of Pugh-Apollo platform into fuel distribution for commercial, industrial, and manufacturing customers, as well.
Zane Tarence, Managing Director at Founders, noted that "the Veteran's Oil brand has been built by the Musgrove family over the past 70+ years through relentless customer service and delivery of quality products to their customers.  Joining forces with Pugh-Apollo will enable the Company to continue providing the same excellent support its customers have always relied on, and give the Company a platform for further growth.  We are excited to see how Jason and the rest of the fantastic team at Veteran's will continue to grow and thrive with Pugh-Apollo's support".
"From our first meeting with them, the Pugh-Apollo team connected with our family and we knew that they would be an excellent partner.  We enjoyed working with them on the transaction, and look forward to the opportunities they'll provide all our employees and Jason," said former President and CEO, John Musgrove.
About Founders
Founders is a merger and acquisition advisory firm based in Birmingham, Alabama. Its team's proven expertise and process-based solutions help companies and business owners access capital and prepare for and execute liquidity events to achieve specific financial goals. The firm focuses on technology and specialty pharmacy clients across the United States, and oil and gas, industrial, healthcare, industrial technology, and manufacturing clients located across the Southeast. For more information, visit www.foundersib.com. In order to provide securities-related services discussed herein, certain principals of Founders are licensed with M & A Securities Group, Inc. or Founders M&A Advisory, LLC, both members of member FINRA & SiPC. M&A Securities Group and Founders are unaffiliated entities. Founders M&A Advisory is a wholly-owned subsidiary of Founders. The testimonial presented herein does not guarantee future performance or success.
About Veteran's Oil
Based in Bessemer, AL, Veteran's Oil is a distributor of fuels, lubricants, and Diesel Exhaust Fluid.  The Company is a full line Shell and Peak Lubricants distributor, and focused on delivering quality products and services, with the number one goal being customer satisfaction.  For more information, visit https://www.veteransoilinc.com/
About Pugh Lubricants and Apollo Oil ("Pugh-Apollo")
Pugh-Apollo is a distributor of nationally branded and private label finished lubricants, antifreeze, and other ancillary product lines throughout the Carolinas, Virginia, Tennessee, Kentucky, Ohio, West Virginia and portions of Georgia, Alabama, Illinois, Indiana, Mississippi, and Arkansas. For additional information visit www.PughLubricants.com and www.ApolloOil.com.