Ion Interactive Case Study
THE TRANSACTION: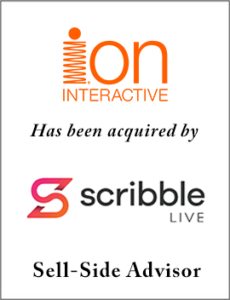 The Principals of Founders Investment Banking advised the shareholders of Ion Interactive in its strategic sale to ScribbleLive.
THE COMPANY:
Ion Interactive offers a software-as-a-service (SaaS) solution and value-added services to enterprise marketers. The company's solution empowers marketers to generate, qualify, and deeply profile leads using differentiated and highly relevant interactive content experiences, without costly, complex, and time-consuming development. The company's platform and services enable brands to engage, convert, and profile higher quality leads by delivering immersive and personalized content responsively designed across all devices. The agile platform eliminates the planning, development cycles, and IT resources associated with traditional interactive content deployment, while not limiting the creation possibilities of marketers.
THE OBJECTIVE:
Since its inception in 1998, as a merger between a creative services firm and a software company, Ion Interactive has continuously evolved its platform capabilities and service offerings to best address the needs of marketers. The initial version of the platform it offers today was launched in 2007, and it addressed the needs of marketers who sought to create, deploy, and optimize targeted micro-experiences on the web – a powerful campaign layer between traffic sources and an organization's general-purpose website. Years later, observing the struggle of marketers to deeply engage potential customers and collect actionable data, the company substantially expanded the capabilities of its platform, giving marketers the freedom to build custom experiences without internal development and resource restraints. In 2015, Ion Interactive released its enhanced enterprise SaaS platform.
This platform shift changed the ideal customer that the company was targeting, thus causing certain growth challenges. As an innovator and early arriver to the interactive content space, the company found that it must now target more sophisticated marketers with well-defined marketing strategies geared towards producing more engaging content. While management firmly believed this strategy would put the company in the best position for future success in the evolving content marketing industry, the initial transition resulted in the company's platform overserving the needs of its less sophisticated legacy customer base. Ion Interactive engaged Founders to effectively articulate the company's story and identify a strategic partner who understood where the demands of enterprise marketers were headed and the value that the company's solution brought to this burgeoning space.
THE SOLUTION:
Founders worked closely with the Ion Interactive management team to build a thoughtful marketing package that articulated the company's recent transition and highlighted the company's position as the leading interactive content solution provider for enterprise marketers. Founders accessed the strategic landscape and identified over 100 strategic acquirers to engage.
This process brought forth ScribbleLive, a leading content experience platform provider based in Toronto. ScribbleLive was able to set itself apart as a great strategic fit for Ion Interactive, as both parties were aligned on their future strategic initiatives and vision of the content marketing space. This process accomplished each of the following objectives:
Full liquidity for the Ion Interactive shareholders
Ongoing roles and incentives for key management team members to assist in taking the business to the next level
A strong strategic partnership between Ion Interactive and ScribbleLive that is mutually beneficial to both parties, allowing each party the opportunity to expand its presence in the industry
About Founders Advisors
Founders Advisors (Founders) is a merger, acquisition, & strategic advisory firm serving middle-market companies. Founders' focus is on energy, SaaS/software, value-added distribution, industrial technology, internet, healthcare, and digital media companies located nationwide, as well as companies based in the Southeast across a variety of industries. Founders' skilled professionals, proven expertise and process-based solutions help companies access growth capital, make acquisitions, and/or prepare for and execute liquidity events to achieve specific financial goals. In order to provide securities-related services discussed herein, certain principals of Founders are licensed with M & A Securities Group, Inc. or Founders M&A Advisory, LLC, both members of member FINRA & SiPC. M&A Securities Group and Founders are unaffiliated entities. Founders M&A Advisory is a wholly-owned subsidiary of Founders. For more information, please visit www.foundersib.com.