Founders Advises CoConstruct in Growth Equity Investment From Serent Capital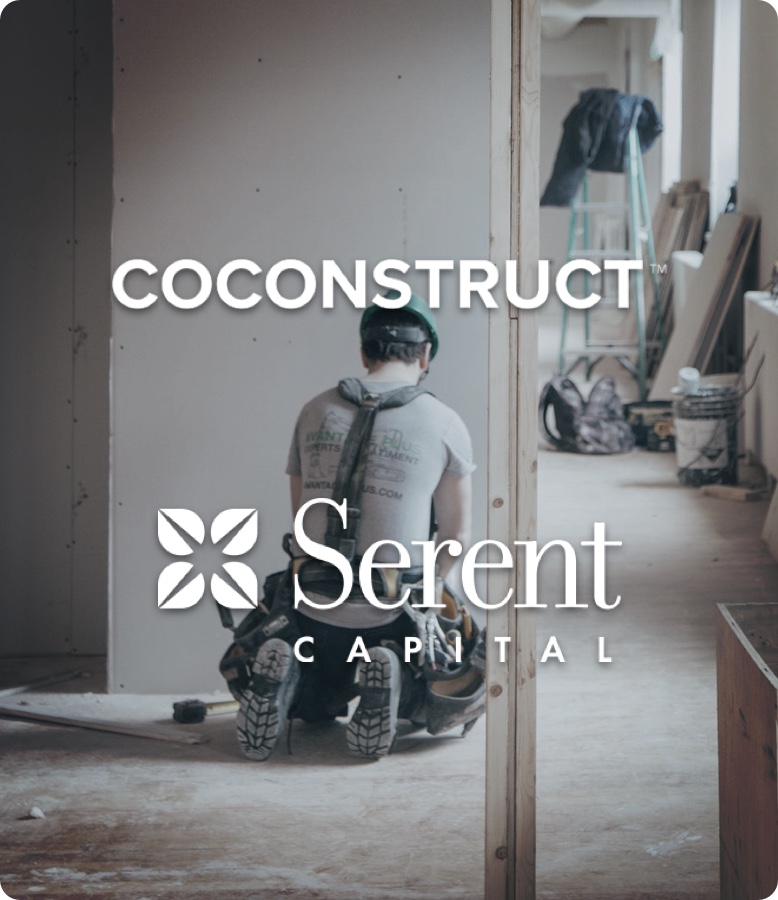 BIRMINGHAM, Ala. – Founders Advisors, LLC ("Founders") is pleased to announce that Co-construct Holdings, LLC ("CoConstruct") has partnered with San Francisco-based Serent Capital to receive a growth equity investment. The principals of Founders served as the exclusive financial advisor to CoConstruct, a leading provider of cloud-based client, project, and financial management solutions for custom home builders and remodelers.
After enduring a typical, but frustrating, homebuilding experience, Donny Wyatt founded CoConstruct in 2005 to end the chaos of the residential building process and turn it into a rewarding experience for both contractors and clients. Today, CoConstruct serves over 4,600 residential building companies as the end-to-end solution to efficiently manage and customize construction projects by bringing communications, schedules, selection decisions, estimates, and more into one place for contractors, clients, and trade partners on the web and mobile.
"After having bootstrapped CoConstruct for nearly 13 years, bringing on a seasoned private equity partner is a significant and exciting move," said founder and CEO Donny Wyatt. "We're incredibly blessed with serving a great industry that continues to prove its thirst for more and better technology. So, I'm positive the timing is right to apply Serent's strategic and operational expertise, as well as capital, to help CoConstruct reach its full potential for our customers and employees."
CoConstruct plans to increase investments in product development to bring new and increased value to its customers, as well as extend its sales and marketing efforts to reach the large number of contractors who currently do not have an all-in-one technology solution. To pave the way for the next wave of growth, CoConstruct will be aggressively focused on organizational development and executive recruitment.
"We are delighted to have the opportunity to collaborate with Donny and the rest of the team at CoConstruct," said Kevin Frick, Partner at Serent Capital. "They have built a tremendous reputation in the market for serving their clients' needs incredibly well – a track record that we plan to build on as we work together on CoConstruct's next phase of growth."
"Donny is one of the most impressive SaaS entrepreneurs our team has had the pleasure to work with," commented Zane Tarence, Managing Director at Founders. "CoConstruct is well positioned to leverage this growth equity investment to further differentiate its platform and increase market share. Our team has enjoyed building a relationship with Donny, and we're excited to see CoConstruct extend its leadership position alongside the Serent team – one of the premier software private equity partners in the country."
About Founders Advisors
Founders Advisors (Founders) is a merger, acquisition, & strategic advisory firm serving middle-market companies. Founders' focus is on SaaS/software, internet, industrial technology, healthcare, digital media, value-added distribution, and energy companies located nationwide, as well as companies based in the Southeast across a variety of industries. Founders also hosts Silicon Y'all, an annual SaaS/Internet Summit bringing together SaaS owners & operators with the leading private equity and strategic investors in a unique, intimate, and highly curated environment. To learn more, please visit www.siliconyall.com. Founders' skilled professionals, proven expertise and process-based solutions help companies access growth capital, make acquisitions, and/or prepare for and execute liquidity events to achieve specific financial goals. In order to provide securities-related services discussed herein, certain principals of Founders are licensed with M & A Securities Group, Inc. or Founders M&A Advisory, LLC, both members of member FINRA & SiPC. M&A Securities Group and Founders are unaffiliated entities. Founders M&A Advisory is a wholly-owned subsidiary of Founders. For more information, please visit www.foundersib.com.
About CoConstruct
CoConstruct is the #1 Highest Rated Custom Builder & Remodeler Software as tallied by Gartner's SoftwareAdvice.com. It is a cloud-based project management tool that helps custom builders and remodelers coordinate their projects, communicate better with clients & crews, and control the financials of their jobs. Users can manage their projects from their tablet or desktop, or in the field with a mobile app. For more information on CoConstruct, visit www.co-construct.com.
About Serent Capital
Serent Capital invests in growing businesses that have developed compelling solutions that address their customers' needs. As those businesses grow and evolve, the opportunities and challenges that they face change with them. Principals at Serent Capital have firsthand experience at capturing those opportunities and navigating these difficulties through their experiences as CEOs, strategic advisors, and board members to successful growing businesses. By bringing its expertise and capital to bear, Serent helps growing businesses thrive. For more information on Serent Capital, visit www.serentcapital.com.