Founders Advises Mustang Energy in its Recapitalization and Merger with Extreme Plastics Plus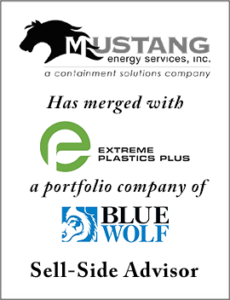 BIRMINGHAM, Ala. (July 6, 2018) – Founders Advisors ("Founders") is pleased to announce that certain principals served as the exclusive financial advisor to Mustang Energy Services, Inc. ("Mustang", or, "the Company") in its recapitalization and merger with Extreme Plastics Plus ("EPP"), a portfolio company of an affiliate of Blue Wolf Capital Partners, LLC. The transaction closed on June 29, 2018, and was led by Duane Donner II of Founders.
Together, Mustang and EPP will provide a full package of containment solutions to the growing water segment of the oilfield, including environmental liner systems and installations, above ground storage tanks, composite mats, secondary containment systems and floating covers. Each company will leverage the other's customer relationships, domain expertise and geographic footprint to cross-sell products and services.
Todd Creel, Founder and CEO of Mustang, noted "Founders' knowledge and experience in the Oil and Gas Services industry was crucial in helping us to source and select the right partner. The team did an excellent job marketing our business to the right suitors, negotiating the deal, leading us throughout the process and getting the transaction closed," he added, "We are excited about this new partnership between two great companies, and are looking forward to a bright future together."
Duane Donner, Managing Partner at Founders, said "It has been a privilege for Founders to work with Todd and Whitney Creel and their impressive team. We are delighted to have been able to serve them through this transaction, and we look forward to seeing the future success of Mustang Energy in its combination with Extreme Plastics Plus. We remain deeply committed and connected to the energy space and this is another great example of the type of solid strategic partnership we like to put together."
About Founders Advisors, LLC
Founders Advisors (Founders) is a merger, acquisition, & strategic advisory firm serving middle-market companies. Founders' focus is on oil and gas, SaaS/software, industrials, internet, healthcare, digital media and industrial technology companies located nationwide, as well as companies based in the Southeast across a variety of industries. Founders' skilled professionals, proven expertise and process-based solutions help companies access growth capital, make acquisitions, and/or prepare for and execute liquidity events to achieve specific financial goals. In order to provide securities-related services discussed herein, certain principals of Founders are licensed with M & A Securities Group, Inc. or Founders M&A Advisory, LLC, both members of member FINRA & SiPC. M&A Securities Group and Founders are unaffiliated entities. Founders M&A Advisory is a wholly-owned subsidiary of Founders. For more information, please visit www.foundersib.com.
About Mustang Energy Services
Mustang Energy Services, Inc. was founded in March 2011 by Todd & Whitney Creel and Todd's father, Rickey Creel. Their goal when starting the company was to be the best lining and containment solutions company in the industry. Todd and Whitney have positioned Mustang as the leading containment solutions company in the Southern US Basins by adding a full staff of senior management that have 20+ years of geosynthetic experience. Mustang has revolutionized the energy industry through the use of best practices, customer service and unparalleled quality. In 2017, Mustang was the largest purchaser and installer of Conductive membrane globally along with being one of the largest private purchasers of geosynthetics across all industries. For more information, please visit www.mustangenergyservices.com.
About Extreme Plastics Plus
Founded in 2007, Extreme Plastics Plus is an environmental containment company that specializes in providing environmental lining, above ground storage tanks, composite mats, secondary containment systems, and drilling support services. Our history, reliability, and quality of service are just as strong as the plastic we lay. We work meticulously on every project and with every client. Extreme Plastics Plus has installed over 300 million square feet of geosynthetic liner. For more information, please visit www.extremeplasticsplus.com.
About Blue Wolf Capital Partners
Blue Wolf Capital Partners LLC is a private equity firm that specializes in control investments in middle market companies. Leading by experience, and with a commitment to excellence, Blue Wolf transforms companies strategically, operationally and collaboratively. Blue Wolf manages challenging situations and complex relationships between business, customers, employees, unions, and regulators to build value for stakeholders. For more information, please visit www.bluewolfcapital.com.