Recent Labs and Diagnostics News – LabCorp and Quest
By: Michael White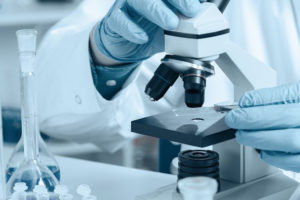 Both Quest and Lab Corp have now reported earnings and have traded off significantly. Quest was off 8.3% Tuesday on a top-line revenue miss of 2% versus the street. LabCorp traded off 2% in sympathy Tuesday before reporting an earnings beat (revenue and EPS) Wednesday before trading off another 5% bringing the stock down 7% over the last two days.
Quest attributed the miss to the following factors: payor changes for prescription drug monitoring and Vitamin D testing and a larger than anticipated decline in Hepatitis C genotyping. On the call, Quest noted that payors have implemented policy changes to limit the growth in prescription drug testing but that they have engaged with payors to show the medical necessity of testing, and that they have been successful in getting at least one payor to reverse course. For Vitamin D testing, Quest noted that it slowed in the quarter due to increased reimbursement denials and reiterated that they are with payers and providers to ensure the appropriate testing is being performed for patients who need it.
From the call: "On the prescription drug monitoring, we mentioned that we've got one payer change of position. We are well down the road in discussing that with a couple of other payers, who made those changes. We're optimistic because we think that our view is the medically appropriate approach to this very necessary, important area of testing. We have some plans in place, and we're counting on not just the one payer being reversed, but a couple others we're feeling like we're making progress in that space. And then on vitamin D, it's really a market that has probably not always been coded appropriately. There's been changes in vitamin D that make a lot more people eligible for vitamin D testing. And there's some practices where people are still using old coding, not understanding that it's going to have an impact on the providers. So I think there's an increasing education around the appropriate use of vitamin D testing, which, of course, we support. But then ensuring that you quote it accurately as well to ensure that the providers can pay. So we're optimistic that some of that will be mitigated as well, over time, and that's why we talked about increasing momentum throughout the back half of the year."
Quest noted the following as it relates to PAMA and the new relationship with United that begins in 2019: "As we continued our conversations with hospital systems CEOs from around the country, it's clear from those discussions that there is a growing awareness of PAMA and the impact it has on their outreach laboratory business. CEOs are increasingly interested in talking more about how we could help them execute their lab strategy. As you recall, this can involve improving their hospital lab operations, working with us on reference testing and potentially selling their outreach laboratory business to us. In addition to PAMA, hospital CEOs are also seeing the trend in health plans like Aetna and UnitedHealthcare partnering with high-value providers like Quest to reduce laboratory spend and bring down the cost of care."
Lab Corp's quarter benefited from strong performance from both Covance and Chiltern though margins were lower based on impact from PAMA and the Chiltern contribution.
Management noted this about the impact from Aetna and United opening their relationships: "I think it's not appropriate to talk about ranges of outcomes with United and Aetna because we're guiding towards 2019 now. I will say that as we have said, from the beginning, given the number of covered lives in each of those plans, it is highly likely that you will lose more in United than Aetna. That's not anything against United or against Aetna. It's just the reality is there are more covered lives under United, and we have a percentage of that market. So that will have a negative impact on revenue and, obviously, on profit… there is opportunity for us in revenue and if we can redirect work away from higher-cost providers, I will say the reality is we cannot do that ourselves. There are many reasons why lab work goes to higher-cost providers, mainly, health systems are very insistent with the doctors and their work to their own captive laboratories…"
Additionally, Lab Corp noted the following about the weakness in its stock and the potential read through from Quest's comments: "I think it's created some uncertainty across the industry which I don't think is. So first of all, I think it's important that we distinguish between volume and revenue. So policy changes and denials do not affect volume. They affect revenue. Now I can say, with respect to all three of those test categories: hepatitis C, vitamin D and medical drug monitoring, that our volume for each of those three categories of tests was up in the quarter, and medical drug monitoring was up substantially in the quarter. So that's volume. Now revenue, we are seeing, as we have seen for years, more and more limited coverage policies, restrictive payment policies, preauthorization policies implemented by payers in an effort to control their lab spend. We don't agree with those policies. Many of those policies, particularly in medical drug monitoring, are aimed at curbing thought and abuse, but they are using blood instruments that affect compliant players like us and Quest just as much as they affect the noncompliant players. So we are seeing more denials, and those denials affect revenue, and so they slow revenue growth. And obviously, they also have an impact on write-offs and bad debt. But we did not see volume declines in any of those areas and, in fact, we saw volume increases in all three."
You may view Q2 2018 transcripts for Lab Corp here and Quest here.
About Founders
Founders is a merger, acquisition, & strategic advisory firm serving middle-market companies. Founders' focus is on oil and gas, SaaS/software, industrials, internet, healthcare, digital media and industrial technology companies located nationwide, as well as companies based in the Southeast across a variety of industries. Founders' skilled professionals, proven expertise and process-based solutions help companies access growth capital, make acquisitions, and/or prepare for and execute liquidity events to achieve specific financial goals. In order to provide securities-related services discussed herein, certain principals of Founders are licensed with M & A Securities Group, Inc. or Founders M&A Advisory, LLC, both members of member FINRA & SiPC. M&A Securities Group and Founders are unaffiliated entities. Founders M&A Advisory is a wholly-owned subsidiary of Founders. For more information, please visit www.foundersib.com.