Founders Advises Predikto, Inc. in Sale to United Technologies Corp.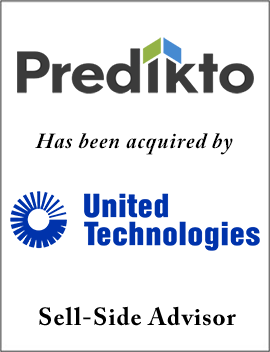 DALLAS, TX, August 22, 2018 – Founders Advisors is pleased to announce that United Technologies Corp. (NYSE : UTX ) has acquired Predikto, Inc., an Atlanta-based predictive analytics software company. Predikto is known for its proven cloud-based predictive health maintenance solution, which enables customers to forecast and improve asset reliability with greater certainty. Predikto was exclusively advised by principals of Founders Advisors.
The acquisition reinforces United Technologies' global digital strategy to make strategic business investments that enhance the company's ability to deliver new forms of value for customers, employees, and shareholders. The unique differentiator with Predikto is the technology platform – it is able to take hundreds of disparate industrial asset data-sets and automate up to 80 percent of the analytics process to quickly deliver actionable insights for taking pre-emptive steps to avoid issues, thereby increasing asset uptime.
"Data is the lifeblood of any digital strategy and actionable data is the way forward as we deliver real customer value," said Vince Campisi, Chief Digital Officer, United Technologies. "We are incredibly excited about this announcement and the future ahead together. By harnessing the best of our combined predictive analytics skillsets, we can better connect all critical assets, understand the reliability and health of our products and ultimately deliver an improved customer experience. Predikto's capabilities will help us scale these efforts across United Technologies' businesses with speed."
Predikto recently completed several pilots with Pratt & Whitney specifically focused on commercial engines using preexisting data. Together, as a complement to Pratt & Whitney's existing physics-based models, the models generated by Predikto identified factors related to unplanned engine events. When taken into account, these insights will further increase the predictability of future issues and inform the development of key product improvements. What would have taken engineers months to aggregate the data and create algorithms instead only took days for two data scientists to complete using the Predikto software platform.
"Predictive analytics and data science have the power to change the way today's businesses run, especially in complex asset-intensive industries," said Mario Montag, CEO, Predikto. "Predikto's approach and technology has been demonstrated globally across the aviation, rail and shipping industries where unplanned downtime and unscheduled maintenance can be costly. There is great opportunity for additional applicability to many of United Technologies' products and services. We are beyond excited to join the team and begin making an impact."
"Founders enjoyed working with Mario and his very talented team on this transaction as we continue to see huge demand for predictive maintenance technologies in the market today," remarked Gene Bazemore, Managing Director at Founders Advisors. "I look forward to seeing the success of Predikto within United Technologies as they positively impact UTC's business operations around the world in the coming months and years."
Mario Montag, Predikto CEO, will assume the role of Chief Data & Analytics Officer for United Technologies, driving the strategy and direction for United Technologies' global data and analytics initiatives in support of the company's businesses. Predikto will have a presence in Atlanta, Georgia, and Brooklyn, New York.
The terms of the transaction are not being disclosed.
About Founders Advisors
Founders Advisors (Founders) is a merger, acquisition, & strategic advisory firm serving middle-market companies. Founders' focus is on oil and gas, SaaS/software, industrials, internet, healthcare, digital media and industrial technology companies located nationwide, as well as companies based in the Southeast across a variety of industries. Founders' skilled professionals, proven expertise and process-based solutions help companies access growth capital, make acquisitions, and/or prepare for and execute liquidity events to achieve specific financial goals. In order to provide securities-related services discussed herein, certain principals of Founders are licensed with M & A Securities Group, Inc. or Founders M&A Advisory, LLC, both members of member FINRA & SiPC. M&A Securities Group and Founders are unaffiliated entities. Founders M&A Advisory is a wholly-owned subsidiary of Founders.
About Predikto, Inc.
Predikto, based in Atlanta, GA, offers monitoring and analytic cloud services to predict asset failures and improve their performance. With this offering, they move unplanned maintenance to planned and enable organizations to use their data to predict future events.
About United Technologies Corporation
United Technologies Corp., based in Farmington, Connecticut, provides high-technology systems and services to the building and aerospace industries. By combining a passion for science with precision engineering, the company is creating smart, sustainable solutions the world needs.