Founders Advises MyBankTracker.com in its Sale to Quinstreet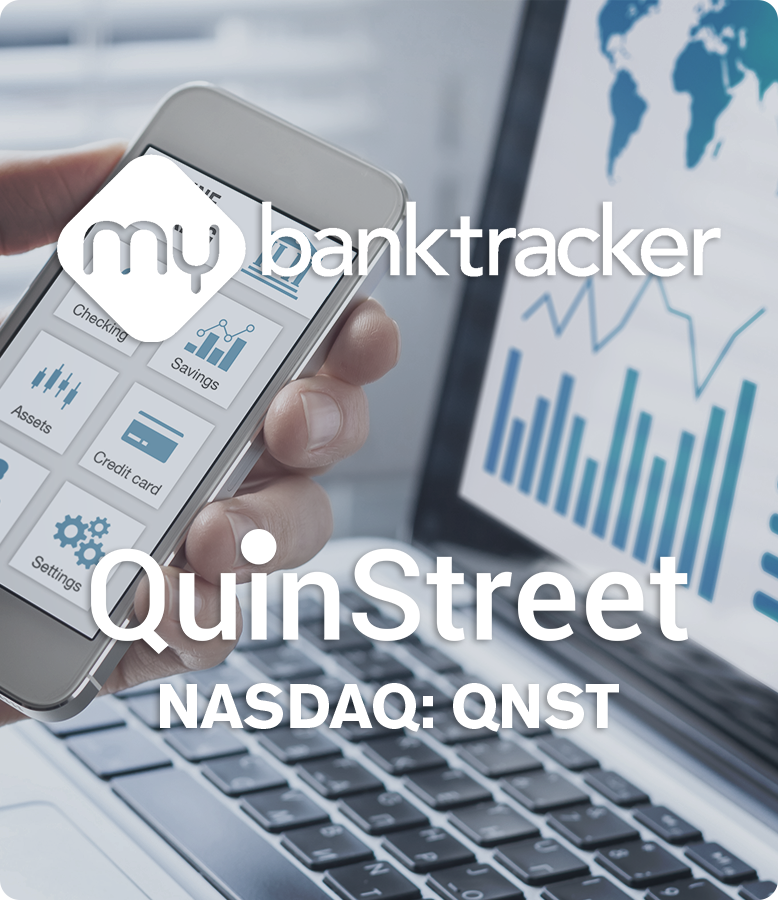 BIRMINGHAM, Ala. (June 24, 2019) – Founders Advisors ("Founders") is pleased to announce that certain principals served as the exclusive financial advisor to MyBankTracker.com ("MBT") in its acquisition by QuinStreet, Inc. ("QuinStreet").
For more than 10 years, MyBankTracker.com has been an accurate, transparent, and consistent source of banking information for consumers. The site provides in-depth information on more than 5,000 banks and credit unions, as well as comparison tools and recommendations that are designed to help consumers find bank accounts, savings products and loans to best meet their financial needs.

MBT attracted more than 7.5 million visitors in 2018, and through its website and media partnerships, has connected more than 50 million visitors to bank products and services since its inception. The site's tools, articles and resources have been recognized for excellence by several national publications, including Consumer Reports, CNN Money, CNBC, Forbes and The Wall Street Journal.

The acquisition enables QuinStreet to provide a broader range of personal finance resources to consumers, and brings together and expands the QuinStreet and MBT banking client network. The acquisition further deepens QuinStreet's editorial and research capabilities in the banking industry and brings complementary technologies and expertise to further the precision with which consumers are matched to banking products and services.

"We founded MyBankTracker.com during the economic recession to improve banking transparency by comparing bank health, rates and fees, while building consumer trust," explains Jason Reposa, CEO and co-founder of MyBankTracker.com. "Our goal has been to improve the relationship between consumers and banks. With so many options in the marketplace, it can be overwhelming. By joining forces with QuinStreet, a company that shares our passion for financial education, we will be able to help even more consumers."
"We are always impressed with the ingenuity and creativity of entrepreneurs such as Jason," said Zane Tarence, Managing Director of Founders Advisors. "As a pioneer in the deposits category, Jason led MyBankTracker through the early stages of digital banking, and with the support of a great team, executed on a vision to transform the online personal finance marketing segment. We have the utmost respect for QuinStreet, and our team looks forward to seeing the two organizations become an even more formidable player in the broader consumer finance space."
About Founders Advisors, LLC
Founders is a merger, acquisition, & strategic advisory firm serving middle-market companies. Founders' focuses on helping Founder based companies across business services, consumer, energy, healthcare, industrial, and technology companies located nationwide, as well as companies based in the Southeast across a variety of industries. Founders' skilled professionals, proven expertise and process-based solutions help companies access growth capital, make acquisitions, and/or prepare for and execute liquidity events to achieve specific financial goals. In order to provide securities-related services discussed herein, certain principals of Founders Advisors, LLC are licensed with M&A Securities Group, Inc. or Founders M&A Advisory, LLC, both members FINRA and SIPC. M&A Securities Group and Founders are unaffiliated entities. Founders M&A Advisory, LLC is a wholly-owned subsidiary of Founders Advisors, LLC. Neither Founders M&A Advisory, LLC nor Founders Advisors, LLC provide investment advice.

About MyBankTracker.com
MyBankTracker.com is an independent comparison website helping consumers make smart banking and financial decisions. The mission is to match consumers to their perfect bank by providing and tracking in-depth information on more than 5,000 banks, credit unions and financial products. Using a combination of technology and money management expertise, MBT provides personal finance comparison tools and educates consumers to optimize their relationships with banks and lenders.