Founders Advises TVS Filters in Acquisition by Pleatco Filtration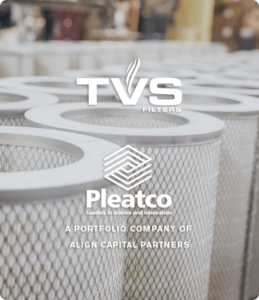 BIRMINGHAM, AL (December 3, 2019) – Founders is pleased to announce that TVS Filters (TVS), a company that designs and manufactures pleated filter cartridges, gas turbine inlet filters, and other filtration products for complex industrial air filtration applications, has been acquired by Pleatco Filtration, a portfolio company of Align Capital Partners. TVS was exclusively advised on the transaction by Founders Advisors.
TVS Filters began as Tennessee Valley Supply in the early 1970s when strip mining across the southeast was active, filling the need for engine air intake filters used in heavy earth-moving equipment. Since the mid-1990s, TVS has grown the cartridge filter manufacturing business steadily, carving out a specialty in the manufacturing of cartridge filters for gas turbine applications in power plants. Today TVS Filters is headquartered in Bessemer, Alabama and is a leading manufacturer and supplier of quality industrial air filters
"TVS has experienced tremendous growth due to our commitment to delivering high quality products with industry best lead times and high levels of customer service," said Part Willings, President of TVS. "Pleatco Filtration's manufacturing capabilities and deep engineering and marketing expertise are the perfect complement to our business and will allow us to offer additional products and capabilities to new and existing customers." TVS services customers throughout North America from its facility in Bessemer, AL.
"Working with Part and TVS to complete a successful transaction with the Align Capital Partners team was a great experience for me, Billy and the rest of our Founders team, and we are very grateful for the opportunity to serve our client through this process," said Gene Bazemore, Managing Director of Founders Advisors. "We feel that TVS is a natural expansion of the existing Pleatco Filtration platform, and we look forward to seeing this combination continue to provide a full portfolio of market leading filtration products for the industrial air market."
About Founders Advisors
Founders is a merger, acquisition, & strategic advisory firm serving middle-market companies. Founders' focuses on helping Founder based companies across business services, consumer, energy, healthcare, industrial, and technology companies located nationwide, as well as companies based in the Southeast across a variety of industries. Founders' skilled professionals, proven expertise and process-based solutions help companies access growth capital, make acquisitions, and/or prepare for and execute liquidity events to achieve specific financial goals. In order to provide securities-related services discussed herein, certain principals of Founders Advisors, LLC are licensed with M&A Securities Group, Inc. or Founders M&A Advisory, LLC, both members FINRA and SIPC. M&A Securities Group and Founders are unaffiliated entities. Founders M&A Advisory, LLC is a wholly-owned subsidiary of Founders Advisors, LLC. Neither Founders M&A Advisory, LLC nor Founders Advisors, LLC provide investment advice.
About Pleatco Filtration
Pleatco is a leading designer and manufacturer of pleated filter cartridges, pleated bags, and other filtration products for the industrial air and pool / spa markets across USA and Europe. Pleatco Filtration brings together the combined forces of former brands APEL, Milton, and TVS under the one banner, leveraging collective engineering, manufacturing, and logistics resources to deliver best-in-class products backed by industry leading sales, marketing, and customer service teams. For more information, visit www.pleatco.com.
About Align Capital Partners
Align Capital Partners is a growth-oriented private equity firm that partners with business owners and management teams to create shared success. ACP manages $325 million in committed capital with investment teams in Cleveland and Dallas. ACP brings experience and resources to help companies accelerate their growth, to the benefit of management, employees, and the firm's investors. ACP makes control investments in lower-middle market business services, specialty manufacturing, and value-added distribution companies. For more information, visit www.aligncp.com.