Founders Advises Nuclear Imaging Services, LLC in its acquisition by TTG Imaging Solutions, LLC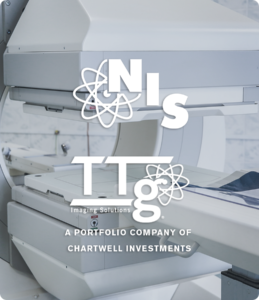 BIRMINGHAM, AL (April 6, 2020) Founders Advisors is pleased to announce that Nuclear Imaging Services, LLC (NIS) and its radiopharmacy, NISotopes, have been acquired by TTG Imaging Solutions, LLC (TTG). NIS is a leading medical imaging equipment, parts, service, and staffing company with significant clinical aptitude. NISotopes is a unique cardiac-based radiopharmacy, based in Houston, Texas, that offers both quality products and service in the Texas Gulf Coast region. The acquisition expands the TTG footprint across the country and brings together a collective breadth and experience to deliver diagnostic imaging solutions to a broader continuum of health care providers.
A leader in Cardiac PET and PET/CT equipment sales, service, and clinical applications, NIS joins TTG to create one of the largest independent full-service diagnostic imaging equipment companies in the United States. The acquisition also broadens TTG's extensive portfolio of clinical staffing and radiopharmaceutical offerings that enhance the company's commitment to be the premier national leader in customer-centric diagnostic imaging solutions.
Mike Hewitt, NIS President & CEO, says "This merger/acquisition with TTG aligns our customercentric philosophy that NIS and NISotopes was based upon, bringing like-minded organizations together that focus on prioritizing its customers first."
Michael White, Managing Director of Founders Advisors, stated "NIS' dedication and focus on the industry has provided them with the ability to continually provide innovation, ingenuity, and better solutions for their customers for the last 12 years. We anticipate a bright future for the business with and look forward to watching TTG continue to scale and evolve over the next decade."
About Founders Advisors
Founders is a merger, acquisition, & strategic advisory firm serving middle-market companies. Founders' focuses on helping Founder based companies across business services, consumer, energy, healthcare, industrial, and technology companies. Founders' skilled professionals, proven expertise and process-based solutions help companies access growth capital, make acquisitions, and/or prepare for and execute liquidity events to achieve specific financial goals. In order to provide securities-related services discussed herein, certain principals of Founders are licensed with Founders M&A Advisory, LLC, a member of FINRA & SiPC. Founders M&A Advisory is a wholly-owned subsidiary of Founders Advisors. For more information, please visit www.foundersib.com.
Nuclear Imaging Services, LLC
Nuclear Imaging Services, LLC (NIS) offers hospitals, outpatient clinics, and private practices a full range of quality products and services for different types of nuclear medicine and molecular imaging procedures. NIS provices high caliber refurbished SPECT, SPECT/CT, PET, and PET/CT systems, reliable service, and quality clinical support nationwide.
About TTG Imaging Solutions, LLC (TTG)
TTG Imaging Solutions, LLC (TTG) is a vertically integrated collection of nuclear imaging companies that offer the best in diagnostic imaging, equipment sales and services, clinical staffing and radiopharmaceutical products. TTG's acquisition of NIS is its 7th acquisition within 15 months. The company is headquartered in Pittsburgh, PA and led by President & CEO, Jack Tomayko. For more information, visit TTGimagingsolutions.com