Recent Specialty Physician Practice M&A – Gastroenterology
Founders Advisors recently advised on the sale of a multi-location physician practice within allergy, ENT and immunology in the fourth quarter of 2020. This practice will become one of the few platform investments within the space. This transaction has given our team and firm a unique level of insight into allergy, immunology, ENT and why private equity is making a significant push to consolidate practices and create operating platforms within these specialties.
Private equity interest in specialty physician practices is expected to remain elevated throughout 2021. The first wave of investment and consolidation, which included practices in ophthalmology, dermatology, dental and urgent care, continues to be extremely active with various platforms reaching the size and scale to transact again in 2021. In addition to allergy and ENT, we have seen increasing levels of interest from private equity in orthopedics, urology, women's health and gastroenterology. Founders Advisors is actively involved in representing clients in several of these specialties, and we welcome the opportunity to answer any questions you may have relating to practice valuation and short- and long-term strategic options. Our team keeps track of press releases and competitive intelligence we come across in the specialty physician practice space. The focus of today's post is gastroenterology, which has seen the formation of ten private equity backed platforms since 2016, seven of which have been created in the last two years.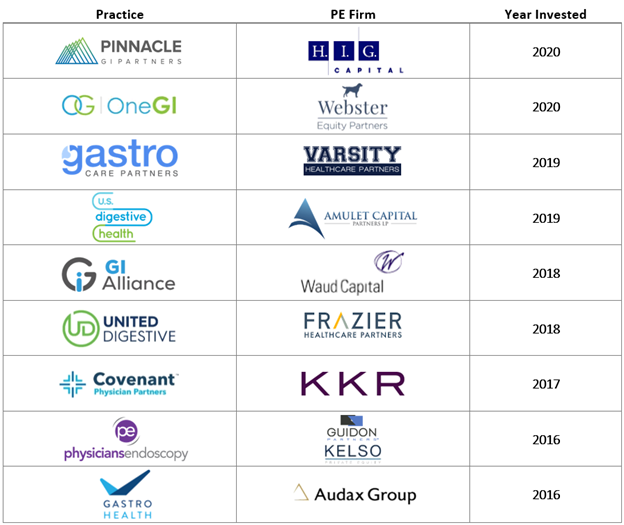 The fourth quarter of 2020 was a particularly busy time, as many private equity firms closed on transactions that had been in process for nearly a year and which had been delayed by COVID-related operating restrictions and business performance. As practices worked through COVID-related impacts on their businesses and private equity began to reengage in the acquisition process, the following transactions closed in the fourth quarter of 2020:
During October 2020, Gastro Health acquired Cincinnati-based Ohio Gastroenterology & Liver Institute and Associates in Gastroenterology based in Woodbridge, VA.
GI Alliance made two acquisitions in November 2020, acquiring Gastroenterology Associates in Hinsdale, IL and expanding into Oklahoma with the acquisition of Adult Gastroenterology Associates of Tulsa.
US Digestive Health added two locations to its platform in Pennsylvania with West Chester-based GI Associates and Pottstown Medical Specialists during November 2020.
H.I.G. Growth Partners created Pinnacle GI Partners through the acquisition of The Center for Digestive Health based in Rochester Hills, MI in December 2020.
During December, GI Alliance partnered with Gastrointestinal Associates in Jackson, MS and Metropolitan Gastroenterology Associates in New Orleans, LA.
One GI, which was created in April 2020 by the acquisition of Gastro One in Memphis, TN by Webster Equity Partners, acquired its first two practices in December 2020: Gastroenterology Associates in Oxford, MS and Associates in Gastroenterology in Nashville, TN.