Founders Advises Impact Floors in its Equity Investment by Blue Sage Capital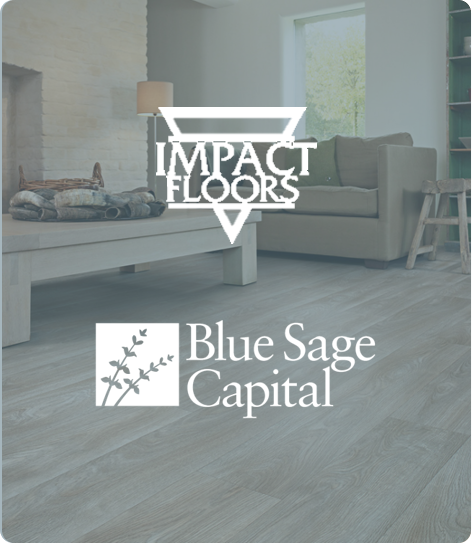 DALLAS, TX (Jan. 27, 2021) – Founders Advisors is pleased to announce that Impact Floors ("Impact") received an equity investment from Blue Sage Capital on December 31, 2020. Impact was exclusively advised by principals of Founders Advisors. Headquartered in Dallas, Texas, Impact is a leading provider of quick-turn replacement services to multifamily owners and operators across the state of Texas. Impact's service offerings include multiple aspects of the apartment make ready process. The Company operates out of five locations in Texas.
"The service provided by Founders was exceptional. The [Founders] team demonstrated their knowledge and commitment throughout the entire process," said Reagan Stricklin, Founder of Impact. "This was a very difficult year, but the Founders team stood beside us the entire time and helped us navigate various challenges along the way. Their understanding of our company, industry, and market was a valuable resource and led to us finding the right partner in Blue Sage Capital."
"When we were introduced to the Impact team, it was clear that they were a sophisticated group who had invested in its people and new technologies to position the company for long-term success," stated Gene Bazemore, Managing Director at Founders Advisors. "Impact is getting a great partner with a proven track record in Blue Sage Capital, and we look forward to seeing the new heights that this partnership will be able to achieve."
About Founders Advisors, LLC
Founders is a merger, acquisition, & strategic advisory firm serving middle-market companies. Founders focuses on helping companies across technology, business services, consumer, energy, healthcare, and industrial industries. Founders' skilled professionals, proven expertise, and process-based solutions help companies access growth capital, make acquisitions, and/or prepare for and execute liquidity events to achieve specific financial goals. In order to provide securities-related services discussed herein, certain principals of Founders Advisors, LLC are licensed with Founders M&A Advisory, LLC, member FINRA and SIPC. Founders M&A Advisory, LLC is a wholly-owned subsidiary of Founders Advisors, LLC. Founders Advisors, LLC does not provide investment advice. For more information, please visit www.foundersib.com
About Impact Floors
Impact Floors was founded in 1988 and is headquartered in Dallas, Texas. Impact provides quick-turn services to multi-family properties in Texas. The Company specializes in flooring and countertop replacements. For more information, please visit https://www.impactfloors.com
About Blue Sage
Blue Sage Capital is an Austin, Texas-based private equity firm that has been investing in profitable, growing, lower middle-market companies since 2002. Blue Sage currently has over $400 million of assets under management and seeks to partner with founders, families and management teams as the first round of institutional capital for businesses that enjoy leadership positions in niche manufacturing, environmental solutions or specialty services industries. Blue Sage typically invests $20 million to $40 million in control buyout investments and recapitalizations of companies with $20 million to $125 million of revenue. For more information, please visit https://www.bluesage.com
The terms of the transaction are not being disclosed.