Founders Advises 3-GIS on its Sale to SSP Innovations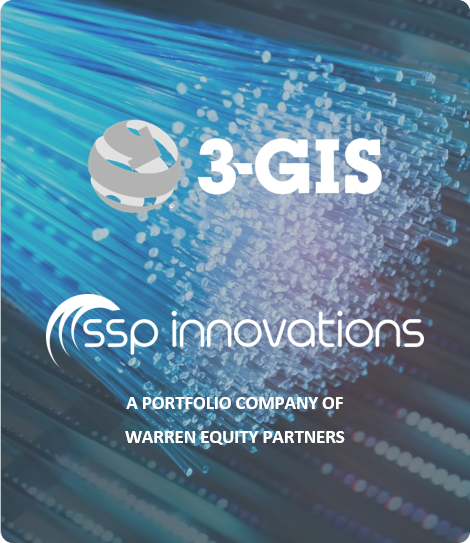 BIRMINGHAM, Ala. (Feb 1, 2021) – Founders Advisors is pleased to announce that SSP Innovations, a portfolio company of Warren Equity Partners, has acquired 3-GIS, LLC ("3-GIS"), a leading provider of fiber network management software focused on serving customers in the telecommunications industry. The transaction closed on December 23, 2020.
Launched in 2006 by a management team with over 90 years of direct industry experience, 3-GIS provides a web-based software platform that allows customers to plan, design, construct, and manage fiber networks.  The software platform is utilized by telecommunication companies, municipalities, universities, and engineering firms across the globe.
"Our journey with Founders completely changed my opinion of the M&A process. While we've been through it before at previous companies, it was nothing like this time. Founders assisted on so many levels, prepared us for every step of the process, and guided us through to completion." said Tom Counts, CEO of 3-GIS. "When the deal was consummated, we were all shocked at the speed, thoroughness, and effectiveness of having a third-party advocate lead the charge. We were able to find an ideal partner in our industry that was essentially the perfect cultural, technical, architectural, and financial fit. At the end of the day, I wasn't excited about exiting…I'm excited about staying and helping drive this combined effort to a higher level."
"It was a pleasure working with the 3-GIS team during this engagement. Tom, Jerry, and Tommy have built an incredible software company by providing innovative solutions, diligently serving their customers, and investing deeply in their unique culture. 3-GIS is well positioned, with the SSP Innovations partnership, to further differentiate its platform, and extend its leadership position in the telecom market." said Zane Tarence, Managing Director at Founders Advisors.
To review more details about the transaction, follow the link here: https://sspinnovations.com/blog/ssp-announces-4th-acquisition-3-gis/
ABOUT SSP INNOVATIONS
SSP, headquartered in Centennial, Colorado, is an IT services and software development company focused on delivering GIS and workforce management solutions to electric, gas, and water utilities as well as oil & gas pipeline operators and telecommunication providers. More information about SSP is available at http://sspinnovations.com/.
ABOUT 3-GIS
3-GIS solves the problems of the telecommunications industry for managing physical network assets by bringing automation, data flow-through, and digital modeling with network management software as a web-based service. The 3-GIS Solution goes beyond understanding where network assets are located, but also helps our customers realize how those physical assets work together. The company's network management applications provide asset management value at every stage in the life-of-network.
ABOUT FOUNDERS ADVISORS, LLC
Founders Advisors (Founders) is a merger, acquisition, & strategic advisory firm serving middle-market companies. Founders' focuses on helping founder based companies across business services, consumer, energy, healthcare, industrial, and technology companies located nationwide. Founders' skilled professionals, proven expertise and process-based solutions help companies access growth capital, make acquisitions, and/or prepare for and execute liquidity events to achieve specific financial goals. In order to provide securities-related services discussed herein, certain principals of Founders Advisors, LLC are licensed with M&A Securities Group, Inc. or Founders M&A Advisory, LLC, both members FINRA and SIPC. M&A Securities Group and Founders are unaffiliated entities. Founders M&A Advisory, LLC is a wholly-owned subsidiary of Founders Advisors, LLC. Neither Founders M&A Advisory, LLC nor Founders Advisors, LLC provide investment advice.