Healthcare M&A Outlook for 2021
Healthcare M&A activity continued to build on the strong momentum from Q3 as the year concluded with the largest Q4 in both deal volume and value in the past six years. Deals that had been impacted by COVID-19 saw a concerted effort to close ahead of any potential changes to taxation policies. While several of the largest deals targeted life sciences or healthcare information technology companies, lower-middle market transactions continued to close fairly evenly across all subsectors. The aggregate decrease in overall deal value for the year was indicative of a more conservative approach to cash management and resource allocation in the wake of the COVID-19 pandemic. We expect this reaction as well as potential changes in regulation and taxation to guide deal-making in 2021.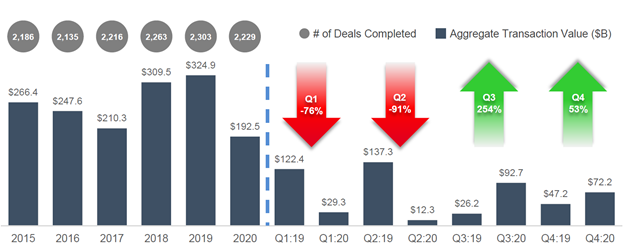 As pandemic-related concerns begin to ease, we expect publicly traded and PE-backed companies will continue to make headlines in the first half of 2021 across sectors. Both private equity and strategic acquirors have substantial amounts of dry powder and will continue to opportunistically deploy capital by acquiring quality companies and assets. This likely results in a marked increase in deal value during the first half of the year as concerns around on-going operations and the impacts from COVID-19 lessen during the vaccine rollout.
We anticipate the back half of the year will see a large number of moderately sized deals for companies with significant tailwinds from COVID-19 looking to pursue M&A opportunities with more firm operating results from Q1 or partial Q2 in-hand. These deals are expected to be across subsectors, but higher volume is expected within healthcare services, medical devices, and diagnostics.
Cyclical risks and potential changes in taxation are likely to impact deals across sectors, including healthcare. Both buyers and sellers will be monitoring potential tax changes as well as the operating environment to adjust their ongoing operations strategy. Companies will also begin to see what effects of COVID-19 show markers as semi-permanent within their businesses versus one-time adjustments. Competition for high quality companies will continue to put upward pressure on valuations. All of these factors will drive a very active M&A market during 2021. In an industry as critical, complex, and capital intensive as healthcare, there exists a need for a specialized investment advisor like the professionals at Founders Advisors. If you have questions around your ongoing strategy or approach to capital markets, please reach out to our team to discuss potential implications for your business or sector.