Announced Changes from CMS Regarding the Update of Stark Law and Anti-Kickback Statute Impact both Private Equity Backed Platforms and Private Physician Practices
By Managing Director Michael White
During a flurry of activity in 2020, HHS announced changes to Stark Law and Anti-Kickback Statue ("AKS") with an effective date of 01/19/2021 which was confirmed on 02/22/2021 as the confirmed effective date. Regarding this update, a vast majority of providers will not have to act to become compliant if currently compliant. The intention of these changes is to adjust current legislation to allow for emerging methods of care as well as denoted value-based arrangements that were previously not addressed to be more fulsomely covered if the activities by providers are considered legitimate. The key components of changes to Stark Law and AKS are denoted by CMS as follows:
Exceptions for Value Based Arrangements
Industry stakeholders informed CMS that, because the consequences of noncompliance with the Stark Law are so dire, physicians and other healthcare providers may be discouraged from entering into innovative arrangements that would improve quality outcomes, produce health system efficiencies, and lower costs (or slow their rate of growth). The final rule is intended to promote innovation by permitting physicians and other healthcare providers to design and enter into value-based arrangements without fear that legitimate activities to coordinate and improve the quality of care for patients and lower costs would violate the Stark Law. The exceptions apply regardless of whether the arrangement relates to care furnished to people with Medicare or other patients.
New Guidance and Clarifications
The final rule provides additional guidance on several key requirements that must often be met in order for physicians and healthcare providers to comply with the Stark Law. For example, compensation provided to a physician by another healthcare provider generally must be at fair market value. The final rule provides guidance on how to determine if compensation meets this requirement. The final rule also provides clarity and guidance on a wide range of other technical compliance requirements intended to reduce administrative burden that drives up costs.
Based on the wider applicability of compensation across privately owned practices as well as private equity platforms, it is likely the most broadly applicable of the provisions within the new guidelines. While FMV compensation analysis can be technically complicated, we attempt to simplify it in the below graphic.
If Questions 1-3 are confirmed, the compensation structure is likely compliant. If the compensation structure meets any of the A-D qualifications in Question 4 or 5, it is also likely compliant. For those who have questions or are unsure if the qualifications are met, compensation arrangements should be appropriately reviewed and adjusted if necessary, throughout 2021.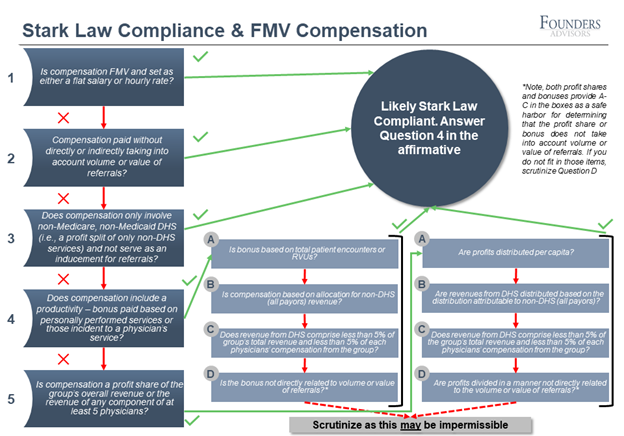 Other Exceptions
New exceptions also provide protection for non-abusive, beneficial arrangements between physicians and other healthcare providers. This provides new flexibility for certain arrangements, such as donations of cybersecurity technology that safeguard the integrity of the healthcare ecosystem, regardless of whether the parties operate in a fee-for-service or value-based payment system.
Timeline of Effectiveness
While initially proposed on 11/20/2020, various complications around the changes in administration and initial publication created a slight delay in the effective date of the final rule by CMS. The below timeline shows the delay in final rule becoming effective, but also represents the importance of the effort by CMS in the Patients over Paperwork initiative.
11/20/2020 – Final Rule announced by CMS.
12/02/2020 – Final Rule Published to Federal Register.
12/22/2020 – GAO finds that the Final Rule does not comply with 60-day delay from Publication to Proposed Effective Date.
01/19/2021 – Initially proposed effective date of Final Rule.
01/20/2021 – Postponement of effective date requested by newly elected Biden Administration for technical review.
02/22/2021 – CMS issues statement confirming the effective date of the Final Rule and that it is in-fact active.
Conclusion
As the first major update to Stark and AKS in recent history, these new provisions better define value-based arrangements and place an emphasis on patient outcomes. This should allow for more innovation in the delivery and quality of care for patients and the collaboration between service providers as the market continues to evolve and trend towards models that were not previously outlined under Stark Law and Anti-Kickback Statute. These changes will likely impact rapidly developing models in the form of telemedicine and other bespoke healthcare engagements more so than traditional methods of care, but all stakeholders are likely to benefit from these changes or see improvements in processes as a result.
Sources and Additional Information
Read OIG's Final rule and Fact Sheet
Read CMS's Final rule and Fact Sheet
Sourced on 3/16/2021 from HHS.Gov
Sourced on 3/16/2021 from FCAinsider