Specialty Physician Practice M&A Update – Dentistry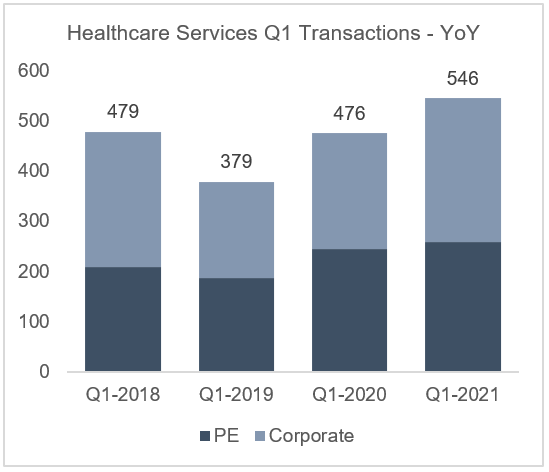 By: Michael White
Private equity interest in Healthcare Services and specialty physician practices has held strong through the start of 2021.  Investors are looking to add to existing platforms while new specialties become a focal point for private equity investors looking to consolidate practices and create new platform companies.
Within Healthcare Services, transaction volume is off to a record start. Volume for both private equity and corporate activity is up 5% and 25% respectively over Q1-2020. While PE activity is up only slightly YoY, this is likely due to deal dynamics across the landscape in which there was a significant surge in volume during Q4-2020, which was likely the main driver in limiting the number of transactions that closed in Q1-2021 as a result.
While entering new specialties is an area of focus or expertise for some private equity investors, there are still a considerable amount of deals being done in specialties within the first wave of investment and consolidation.  This includes practices in dentistry ophthalmology, dermatology, and urgent care; all of which continue to be active with various platforms reaching the size and scale to transact again in 2021.  While many factors impact a private equity owned practice's ability to grow, it is likely that brand recognition and reputation have fully permeated the industry, and select physicians are acutely aware of the benefits and considerations associated with platforms in the market and have had time to consider these factors before determining if an acquisition is appropriate.  Of these "first wave" specialties, one of the most active areas of investment is within Dental specialties where volumes are up in Q1 by 17% and on pace to make 2021 a record year.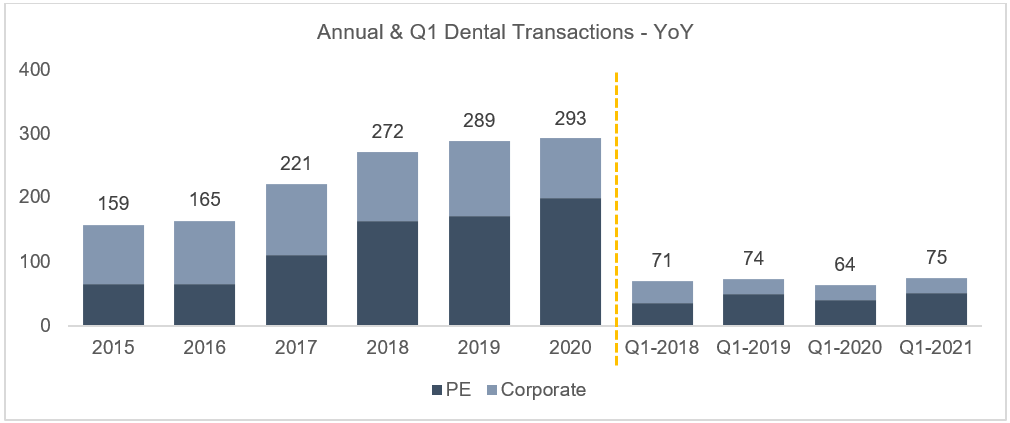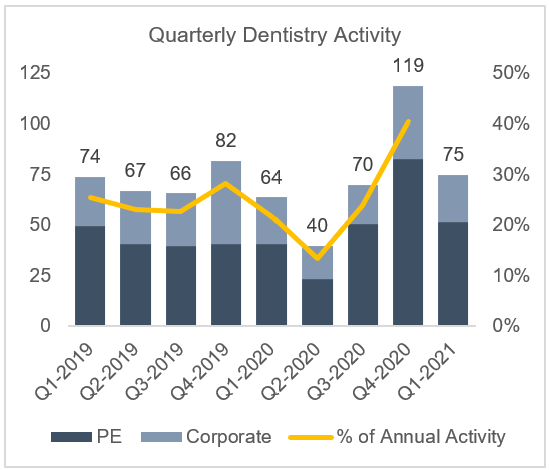 While transactions within the Dental specialty dropped during the initial shutdown due to COVID-19, volume quickly accelerated back to pace in Q3 and Q4 of 2020, with Q4 serving as a record quarter to finalize transactions that were likely in process for longer than normal due to the uncertainty around the operating environment.  The net effect was a plateau on overall transactions for 2020 due to COVID-19 but strong momentum coming out of 2020 and the start to the current year is cause for an optimistic view in 2021 regarding market conditions for dental practice owners considering the option of joining a platform within the specialty in the near-future.
Founders is active in representing physicians in both established and newly developing spaces for private equity investment. We would welcome the opportunity to answer any questions you may have relating to practice valuation and short- and long-term strategic options, and how proposed regulatory changes such as taxation may impact your strategic planning.  Our team keeps track of press releases and competitive intelligence we come across in the specialty physician practice space.