Construction Materials 1H Review
By: Dennis Coker
Synopsis:
After a year of sailing uncharted waters in 2020, how did the major construction materials companies navigate a return to "normalcy" in the first half of 2021?
We've seen a return to a somewhat normalized state over the last nine months, with M&A activity picking back up fueled by potential tax changes, proposed infrastructure legislation, and a resurgence of economic activity despite lingering impacts of COVID-19 as we enter the final quarter of 2021. This 1H 2021 review includes some of the highlights from what the major construction materials companies achieved over the first half of 2021, as well as insight as to how they see the remainder of the year developing, and an overview of recent M&A activity and trends.
Key Trends:
Following a difficult and unpredictable year, companies in the construction materials space saw their revenues jump from pandemic lows, indicating that the worst has likely passed. For the most part, growth in revenue came in the form of increased sales volume growth across all product lines, in cement, ready-mix, and aggregates, concrete pipe and precast, as well as residential focused product lines. Additionally, many construction materials companies took advantage of the hot 2021 M&A market, and low cost of capital to complete significant platform acquisitions in addition to more common bolt-on deals.
Alternatively, much of the profit growth that companies experienced in the first half of 2021 was partially offset by increasing input prices (energy, raw materials, labor costs and labor shortage) for their products. For producers with operations in Texas, there was unfavorable (very wet and rainy) weather. Though demand remained high, weather issues led to a slight decrease in demand for construction materials in the state for some producers.
1H 2021 Transaction Trends
During 1H 2021, M&A activity sped up significantly (+50%) YOY as a result of business owners seeing favorable valuations coinciding with an impending tax change at year-end 2021.

Historical M&A transaction count in the Building Materials Industry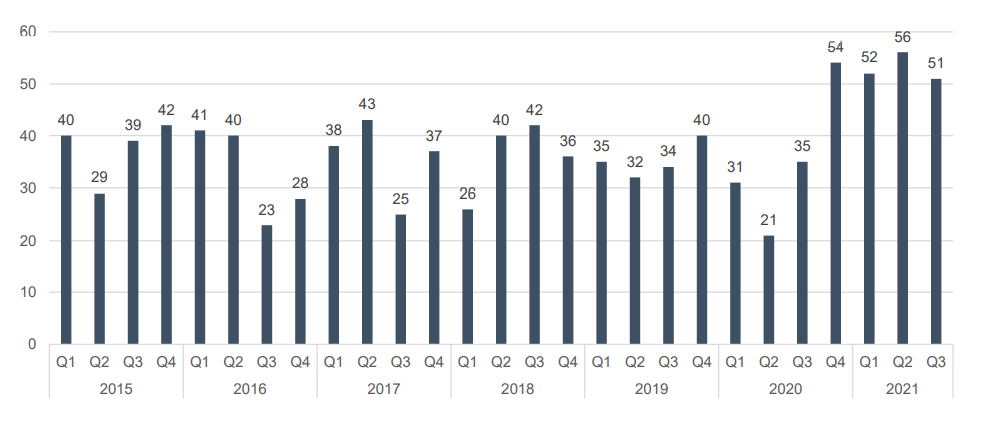 Furthermore, with interest rates low and buyers' belief that the economy has returned to a more financially stable state, major strategic and private equity backed buyers are actively seeking transactions. Target companies have experienced a hot M&A market as their markets have strengthened, and a backlog of projects makes them a favorable acquisition target for both strategics and private equity backed firms.

With over one hundred transactions YTD-June 2021, public strategics made up 29% of all acquisitions in the building materials space while private strategics made up 39% of transactions. In 1H, Industry leaders such as Martin Marietta, Lafarge Holcim, Vulcan, and Arcosa were involved in a combined 8 transactions while they announced an additional 5 deals that have not closed yet. The remaining 32% of transactions were private equity based with 20% of acquisitions being add-ons compared to 12% being platform companies.

Through 1H, building materials companies experienced continued positive outlook following an increase in housing starts, resumption of commercial and institutional construction, infrastructure spending, and a strong backlog of projects as mentioned above.

While the pandemic has helped drive input prices upwards and constrained the supply of materials, resulting in delays for parts, machinery, etc. in the industry, construction levels are expected to continue through 2021 which will curb the negative effect of the pandemic.
"Transactions flourished throughout 1H 2021 as a result of strong industry performance,

a competitive buyer's market, and macroeconomic factors such as a potential impending

tax change that has caused business owners to reevaluate their exit timeline."

Dennis Coker