Founders Advisors – Middle Market M&A Overview Q3 2021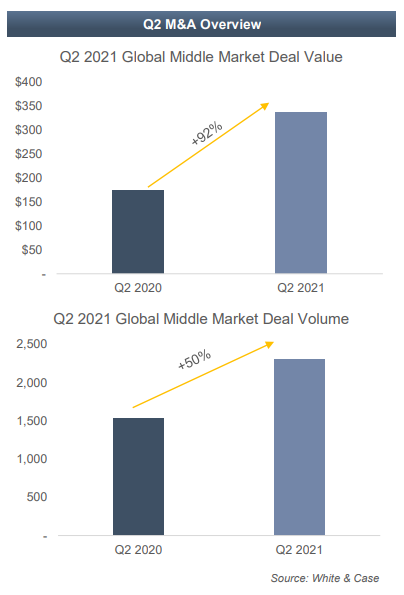 Observations
Despite the fear due to the COVID-19 Delta variant, the market remains active because of tax law discussions, recovering credit markets, and high levels of buyer dry powder.
Combined, announced, and recently completed deal counts continue to near record levels.
As the M&A market continues to persevere, confidence in the overall health of the market will continue to grow.
Middle market M&A activity is up substantially year over year in terms of both value and volume.
We anticipate elevated middle-market PE activity will continue through the remainder of 2021.
Q2 activity points suggests the rest of 2021 will be a robust deal making environment.
PE funds are seeing an overflowing number of deals forcing them to take diligence in their approach.
Sellers who were positively affected by the pandemic want to take advantage of high multiples; those who were challenged are realizing the advantages of being part of a larger organization.
The looming promise of a tax rate increase will drive a sense of urgency for sellers to close in 2021.
Some buyers are offering gross-up payments to cover the difference when tax rates eventually increase, as well as discussing insurance policies to cover potential retroactive rate increases.
As the year comes to an end, many deals will see a considerable push to close before the start of 2022