Founders Advises LeadsOnline on its Strategic Growth Investment from TA Associates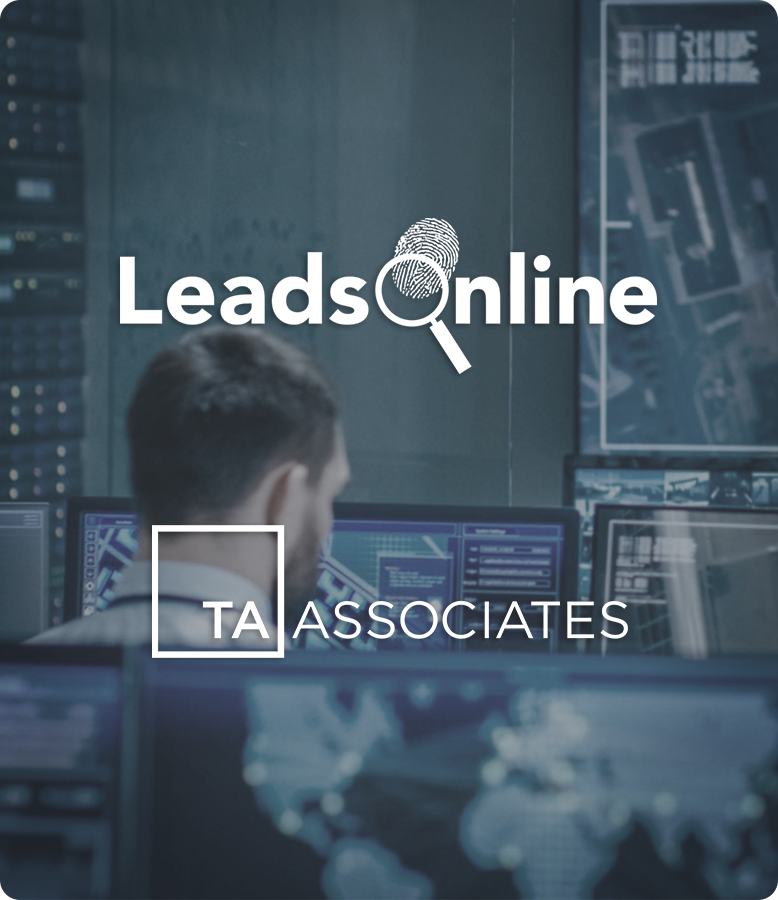 BIRMINGHAM, AL (May 25, 2022) – Founders is pleased to announce that LeadsOnline, LLC has received a strategic growth investment from TA Associates. Founded in 2000, LeadsOnline is a nationwide provider of data, technology and intelligence software tools used by law enforcement agencies, investigators, and businesses. The company's unique dataset and highly scalable SaaS platform is leveraged by over 5,000 law enforcement agencies and more than 22,000 reporting businesses across the United States. LeadsOnline will continue to be led by its current leadership team, and TA brings a wealth of experience and meaningful resources that will enable LeadsOnline to accelerate its market expansion and product roadmap.
LeadsOnline facilitates collaboration between private businesses and law enforcement agencies across the United States for the advancement of peace and justice. The LeadsOnline platform allows businesses that are typically required by law to make transaction information available to law enforcement for the purpose of criminal investigations to freely and efficiently comply with reporting mandates. These businesses include secondhand stores, pawn shops, scrap metal recyclers and online marketplaces. Each year more than 60,000 investigators from state, local, and federal agencies use LeadsOnline to successfully advance cases, ranging from property crimes to the location and apprehension of dangerous criminals.
"LeadsOnline has served law enforcement for more than 20 years and we could not be more enthusiastic about serving on an expanded scale. We have witnessed firsthand the inefficiencies and constraints plaguing law enforcement agencies and are committed to bringing to market more tools and data to help investigators advance cases faster," said Alex Finley, CEO, LeadsOnline. "We're proud of the good our team and clients have done together over the years and believe TA is the right catalyst to accomplish even more. With its long history of supporting growth companies and extensive network, we believe TA is an ideal partner for LeadsOnline at this stage of our journey. We are thrilled to welcome TA as our first institutional investor and look forward to collaborating closely."
"LeadsOnline has established itself as a modern intelligence solution for law enforcement and government agencies," said Michael Berk, a Managing Director at TA who will join the LeadsOnline Board of Directors. "We have followed the company's evolution closely and were drawn to its unique data, differentiated technology, deep customer relationships and talented, committed management team. We believe LeadsOnline is well-positioned for accelerated growth and are excited to invest in the company's future."
"We are thrilled to partner with TA as we enter this new chapter," said Ashley Sacrider, COO, LeadsOnline. "Our business was built on bringing together law enforcement agencies and businesses for the benefit of local communities, and we remain deeply dedicated to that mission. TA offers the experience and resources we need to grow, while maintaining a culture centered around customer service. We look forward to the opportunities ahead, from developing new data and software solutions to expanding our team and footprint."
"LeadsOnline is a special organization, and we value the deep relationships we have built with Alex, Ashley and their team," said Zane Tarence, Managing Partner at Founders Advisors. "LeadsOnline's success is a testament to their unique data-driven culture and deeply engrained core values. TA did a phenomenal job of mapping their team's expertise and value-add with LeadsOnline's long-term strategy. There was also clear alignment between the groups in terms of vision and purpose. We are excited to see LeadsOnline continue to lead the way in this market as well as the positive impact this partnership will have on law enforcement agencies across the country."
About LeadsOnline
LeadsOnline is a powerful digital platform that helps investigators and analysts advance cases through the most current data on people & property nationwide, and helps businesses reduce the hassles of reporting. Law enforcement agencies of every size and mandate use LeadsOnline to find elusive suspects, stolen items, and patterns of individual & organized criminal activity. Businesses, including pawn shops, secondhand stores, scrap metal recyclers and online marketplaces trust LeadsOnline more than any other system to freely, frictionlessly, and safely report transaction information to law enforcement. For more information, please visit www.leadsonline.com.
About Founders Advisors
Founders is a merger, acquisition, & capital solutions advisory firm serving middle-market companies. Founders focuses on helping companies across business services, consumer, energy, healthcare, industrial, and technology industries. Founders' skilled professionals, proven expertise, and process-based solutions help companies access growth capital, make acquisitions, and/or prepare for and execute liquidity events to achieve specific financial goals.