Founders Advises Raney's in its Recapitalization by Incline Equity Partners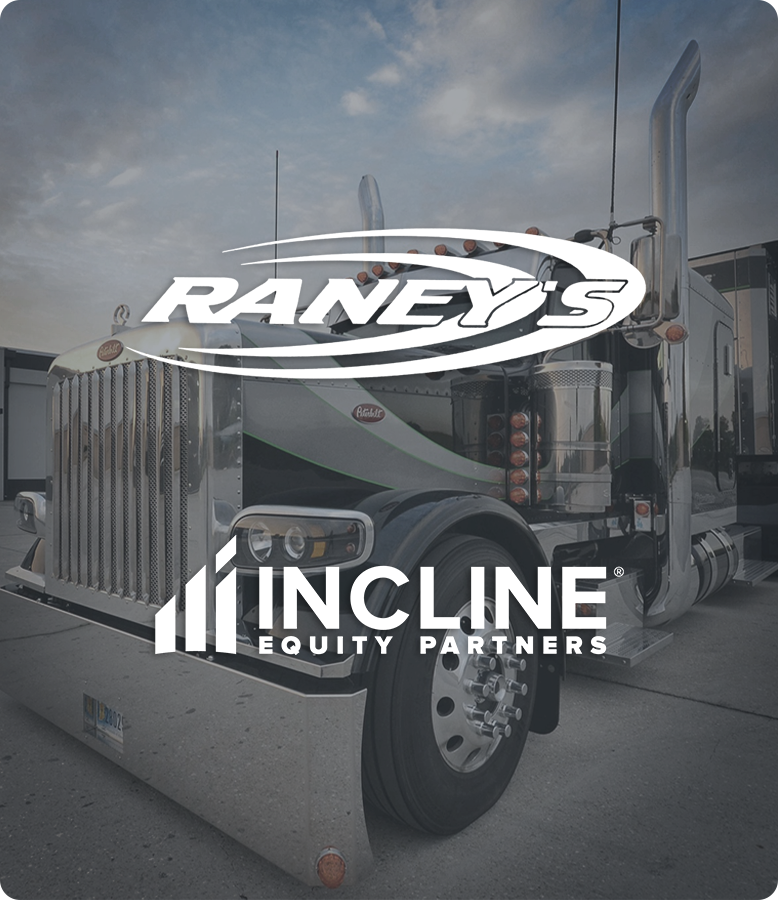 BIRMINGHAM, AL (July 7, 2022) – Founders is pleased to announce that Raney's, Inc. ("Raney's"), a leading e-commerce distributor of heavy-duty truck parts and accessories, has been recapitalized by Incline Equity Partners ("Incline"). Raney's was advised exclusively on the transaction by principals of Founders Advisors.
Raney's was founded in 2012 as a niche e-commerce distributor selling truck parts out of a house in Ocala, Florida. Over the past decade, Raney's unwavering commitment to its customers and core values, combined with its unique culture of continuous innovation, have enabled the company to offer one of the industry's most comprehensive selections of aftermarket parts and accessories specifically catered to truckers and fleet operators across North America.
"This is truly an exciting time for Raney's. Our team is looking forward to working with Incline as we seek to take advantage of the many opportunities up ahead" said Joel Raney, CEO and co-owner along with his father Mark Raney. Mark and Joel add, "The incredible team we have at Raney's has laid such a strong foundation from which we will continue to build from. The future is bright for our team and we know that this partnership and accelerated growth will provide even more career opportunities for everyone on board."
While Raney's has only been around for just over a decade, its roots and many of the values that guided the team to their current success can be traced back to 1957, when Mark's father, George Raney, opened Raney's Truck Stop in Ocala, FL. Mark shares of his father and Joel's grandfather, "Much of my professional and personal success I attribute to the incredible lessons I learned from my father in those early years. I truly stand upon the shoulders of giants. My father always stressed the importance of providing your customers an exceptional experience they won't find anywhere else. Joel and his team have always stayed true to this principle, and it's been amazing to see the success it has produced."
"It was clear from our first meeting with Joel and his father that they had built an incredible business that we felt was in the early innings of something special. From the outset, Joel and Mark were clear about their priorities – to find the right growth equity partner that could bring unique perspectives and fresh ideas to the table while valuing and protecting the company's strong culture. After a thorough process, the team found a natural partner in Incline, who share Joel and Mark's vision for the company" observed Gene Bazemore, Head of Industrials and Managing Director at Founders Advisors. "I can truly say it was an honor and pleasure working with Joel, Mark, and the entire leadership team; we are incredibly excited to see what successes the future holds for this dynamic group."
"Raney's has been successful in establishing a strong brand among its diverse base of enthusiast customers," said Leon Rubinov, Senior Partner at Incline. "The shift to online sales and increasing desire for customization creates significant demand for Raney's product set. To build upon this momentum, we plan to invest in technology to improve inventory management capabilities and leverage digital marketing to engage with new and existing customers. We are excited to partner with the founders of Raney's to support their ongoing success."
Joel Raney adds, "Without Founders, this process likely never even gets off the ground. From the very first conversation with our Founders deal team, my father and I felt confident that we were in good hands. Founders truly showed they had our best interest in mind throughout the entire length of the deal and if we could choose anyone in the world to go back to market with, it would be this same crew again without a doubt."