Will Selling Direct-to-Consumer Increase the Value of My Company?
By: Wayne Vacek
Our client, a consumer products wholesaler we are advising in a sale process, recently asked us whether she should narrow her focus into the Direct-to-Consumer (D2C) channel. Over the last two decades, her company has successfully sold into retail stores and, in turn, has grown steadily. However, she is unsure as to how important online sales would be for her sales strategy.  Her company's value proposition is built mainly for the needs of in-store shoppers, including product development with trendy designs, third-party sourcing to reduce costs, and fast-turn, retail deliveries in bulk.  
Below is our perspective on how consumer product businesses should be thinking about growing their D2C sales channel. 
"Digital Matters"
With the market for online purchases growing every year, it's easy to see why the question is top-of-mind for today's consumer product companies. D2C and E-commerce sales make up 15% to 20% of total retail today. Specifically, E-commerce, which has +12% growth projected over the next five years.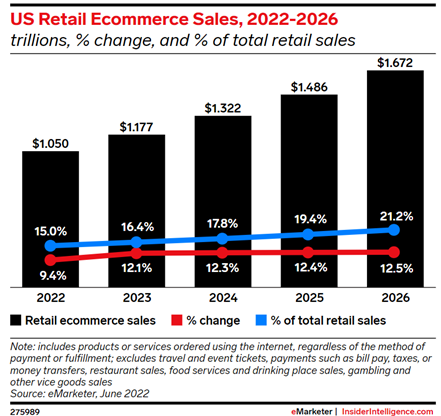 Our job is to provide clients the best possible offer in the market when they sell their businesses. Since buyers will compare your business to where the market is growing, it's important to be where the growth is. Faster growing areas will result in higher valuations for your business. Since E-commerce is growing 12 times the rate of brick & mortar (12% vs. 1%), consumer products need to "skate to where the [growth] puck is going." 
 "Is E-commerce the right strategy for my business
today
?"
E-commerce sales can range from 70% down to 3% of total market sales across consumer categories. Are your products in categories that typically sell well online such as consumer electronics, apparel, or office supplies? Or are your offerings better purchased in stores, like food, automotive parts, or health and beauty products? For our client, apparel has 20-25% of sales occurring online, so it is imperative they incorporate D2C expansion into their growth plans. If more than 10% of your consumer category is sold through E-commerce, it's imperative this is included in your growth plans as well. 
 "Where should I start?"
Do we have proof of concept to demonstrate we can sell online successfully, or are we still in the idea phase? What small bets can we place to quickly learn and evolve? Do we have the warehouse and logistics solutions needed for D2C shipping? Will selling Direct-to-Consumer be profitable after high advertising costs through Google and Social Media marketing? Will I alienate any existing retail customers by selling direct? 
Managed properly, selling directly to consumers will accelerate your growth and has the potential to do so with strong profit margins. D2C also gets you one step closer to the consumer so you can respond and react to feedback rapidly and can create greater brand awareness. On the other hand, going D2C often requires greater investment in inventory and marketing know-how. To sell online successfully at scale, you will need to grow your team at various levels, from sales and marketing, to fulfillment, to post-purchase customer service. In addition, you will need to keep open lines of communication open with your retail accounts to ensure that any new Direct-to-Consumer growth does not negatively impact their business. 
Evaluating the pros and cons of a D2C strategy for your business today will go a long way towards convincing a buyer to see – and pay up for – investments into a faster growing segment. 
Final Thoughts
We often tell our clients, "People who buy businesses buy them every day, and people who sell businesses sell them only once." Having been party to buyer/seller conversations for several years now, we know that buyers tend to view strategic plans with a healthy degree of skepticism when sellers place a heavy emphasis on "all the D2C opportunity out there we just haven't captured." The first question buyers typically ask should also be yours – if the opportunity is so big, why is the business not selling D2C already?  
It's important not to overstate where you are in your digital journey. If you run an organized sale process for your company, by the time a buyer is sparring with you on your strategic plans, your financial advisor should have helped the buyer gain a healthy understanding of your company and its value proposition. In the overall context of attracting a buyer to sell your company, your energy may be best used to focus on your company's core strengths and the places you have a strong track record of results. Doing so will help move buyers – and the dollars they are investing – from skepticism about your business to excitement about the company and all its future opportunities.  
If you or someone you know has questions about valuations, business sales, or equity raises, please feel free to reach out to our team.