Construction Materials 1H 2022 Review and Year End Outlook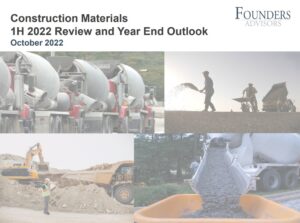 In the Construction Materials 2022 Review and Year End Outlook, we discuss how the major construction materials companies navigated macroeconomic challenges in 1H 2022. We also look into key trends including what the major players are predicting for 2023 and beyond, their valuation and trading statistics, and notable transactions over the past year.
In summary:
Despite macroeconomic challenges, many companies have seen positive financial results in 2022
There has been a steady pace of M&A activity within the construction materials universe
Companies have doubled down on their strategic plans, with both large acquisitions and sizable divestitures
Click here to read the full industry report. 
If you or someone you know has questions about the construction materials industry, please feel free to reach out to Dennis Coker, Managing Director of our Building Materials Practice.