Founders Advises Sunrise Builders Supply in its Acquisition by Kodiak Building Partners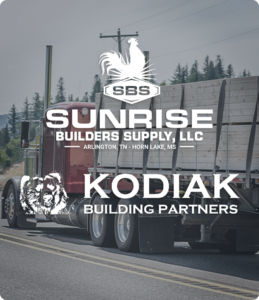 BIRMINGHAM, AL (November 1, 2022) – Founders is pleased to announce that Sunrise Builders Supply, LLC ("Sunrise"), a leading provider of high-quality building supplies for builders, contractors and D.I.Y. homeowners, has been acquired by Kodiak Building Partners ("Kodiak"). Sunrise was advised exclusively on the transaction by principals of Founders Advisors.
Sunrise was founded in Horn Lake, Mississippi in 1996 to provide high-quality building supplies to builders, contractors, and DIY homeowners in northern Mississippi and southern Tennessee. Since its founding, Sunrise has expanded its reach by adding a second location in 2019 in Arlington, Tennessee, and now supplies lumber, engineered wood, trusses, hardware, tools, paint, and more to both area communities.
"Being part of a national company like Kodiak will provide increased growth opportunities for our business and employees as well as access to new vendors," said Charles Thomas, President of Sunrise Builders Supply. "For our customers, Sunrise will continue to deliver the same premium products and service excellence they expect from us, supplemented by the resources Kodiak can now provide."
"Upon meeting with the owners of Sunrise, it was clear how essential it was to find the right partner for the next stage of Sunrise's growth," said Director, Vaughn McCrary, of Founders Advisors. "Charlie and the team know what it takes to build and run an excellent building product wholesale business. They were a pleasure to work with, and I look forward to seeing their business reach new heights through their partnership with Kodiak."
"The Founders team did an excellent job guiding us through the process of finding a new partner for Sunrise," added Thomas. "My partners and I were impressed with their knowledge of our business and industry as well as their thoughtful advice at key decision points."
Kodiak Building Partners was founded in 2011 to acquire family-run businesses in the building material sales and distribution industries. Over the last 11 years, Kodiak has acquired over 100 locations that serve general contractors, homebuilders, sub-contractors, remodelers, and consumers in over 20 states with over 5,000 employees.