Construction Materials 2022 Year in Review Newsletter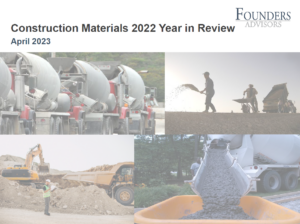 In this edition of the Construction Materials 2022 Year in Review Newsletter, includes some of the highlights from what the major construction materials companies achieved over 2022, as well as insight into how they see 2023 developing, and an overview of recent M&A activity and trends. It also includes valuation and trading statistics for major players in the industry, as well as notable construction materials transactions from 2022 and early 2023.
In summary:
The inflationary environment and series of rate increases by the Fed provided a challenging backdrop in 2022
Activity in the construction materials sector stayed strong despite the troubling environment
With the slowing of the pandemic and the start of projects funded by dollars from the Infrastructure Investment and Jobs Act, construction activity was in an exciting spot in 2022
Click here to read the full industry report. 
If you or someone you know has questions about the construction materials industry, please feel free to reach out to Dennis Coker, Managing Director of our Building Materials Practice.