Founders' Consumer Newsletter: Q2 2023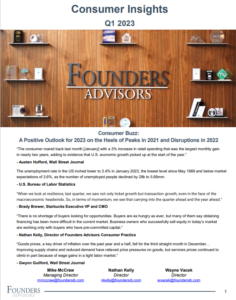 In this edition of Founders' Q2 Consumer Newsletter, our team provides valuable insights on the current marketplace, including a rebound in private valuations amid a slow start for public market sentiment in 2023. We also discuss key indicators and takeaways from the past quarter, a middle market M&A overview, current buzz around the marketplace, and public company operating statistics.
We also touch on insights from industry experts, including:
"The share of M&A deals with founder owned companies as targets reached 61.5% in Q1 2023, up from 53.8% in Q4 2020. Their share of M&A value increased to 43.5% from 31.3% during the same span. Founder owned companies have always been attractive targets for corporate and sponsor acquirers for a variety of reasons, the latest being the low inventory of motivated sellers in the current environment." – PitchBook Data, Inc.
"Retail has changed a lot in the last 5 to 10 years, and the change over the next 5 to 10 years is likely to be just as significant. Customers are demonstrating preference for multichannel offerings, convenience, value and selection, and up to this point, for most, it's proving challenging to provide all of these things at attractive economics." – John Rainey, Walmart CFO and EVP
If you or someone you know has questions regarding the above, or the general consumer marketplace, please feel free to contact Nathan Kelly or Wayne Vacek, Director's of Founders' Consumer Practice.