Enterprise Support Software: Q2 2023 Vertical Coverage Report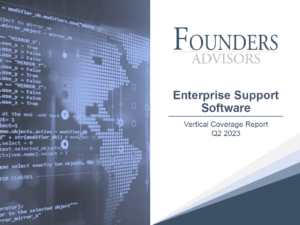 In this edition of Founder's ESS Vertical Coverage Report, our team provides valuable insights from the marketplace based on Q2. The first half of 2023 continues to be a challenging market for Technology M&A, particularly from a new platform standpoint. The decline in public markets and the rise in interest rates has led to a valuation gap between buyers & sellers. The "Year of the Add-On" continues to take shape, as private capital continues to be deployed by strategic and private equity backed hybrid buyers, looking to smaller add-on acquisitions as way to use dry powder and accelerate growth in this market.
Our update also features deep dives into:
Supply Chain Software
FP&A Software
Workflow & Process Automation Software
Enterprise Software Consulting Services
As we continue to make our way through 2023, Founders remains focused on helping founder-owned and led businesses achieve their goals, whether that is to exit completely, take some chips off the table, or raise capital to accelerate growth.
If you are considering a transaction, please reach out to our team for insight into what investors and buyers are looking for, as well as how we uniquely position each business to maximize value, minimize the disruption to your daily business, and optimize the probability of a successful outcome.