Dallas – Fort Worth M&A Activity Q4 2019
By: Sterling Smith
According to Capital IQ and Founders' proprietary sources, M&A and private placement activity in the fourth quarter of 2019 decreased roughly 18% versus the same quarter in the previous year. Transaction activity in the Dallas – Fort Worth market continues to be diversified with Information Technology, Industrials and Consumer representing the top three sectors by volume. Overall, there were an estimated 101 transactions involving companies from the Dallas – Fort Worth area completed in the fourth quarter of 2019. Most of the transactions were sub $200 million in enterprise value; two of the largest transactions announced were the acquisition of Park Place Motorcars, Ltd. By Asbury Automotive Group, LLC for $1 billion and the acquisition of Emergent Cold LLC by Lineage Logistics, LLC for $900 million.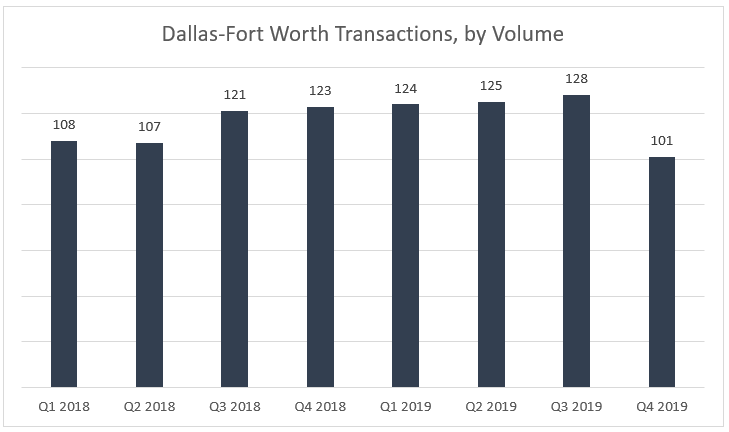 Sign up for our newsletters for additional industry specific updates that are released quarterly.
Founders Advisors (Founders) is a merger, acquisition & strategic advisory firm serving middle-market companies. Founders' focus is on business services, consumer, energy/industrial services, healthcare, industrial technology and SaaS/technology companies across the U.S. Founders' skilled professionals, proven expertise and process-based solutions help companies access growth capital, make acquisitions and/or prepare for and execute liquidity events to achieve specific financial goals. In order to provide securities-related services discussed herein, certain principals of Founders are licensed with M & A Securities Group, Inc. or Founders M&A Advisory, LLC, both members of member FINRA & SiPC. M&A Securities Group and Founders are unaffiliated entities. Founders M&A Advisory is a wholly-owned subsidiary of Founders. For more information, please visit www.foundersib.com.