Founders Advises on the Sale of John-Richard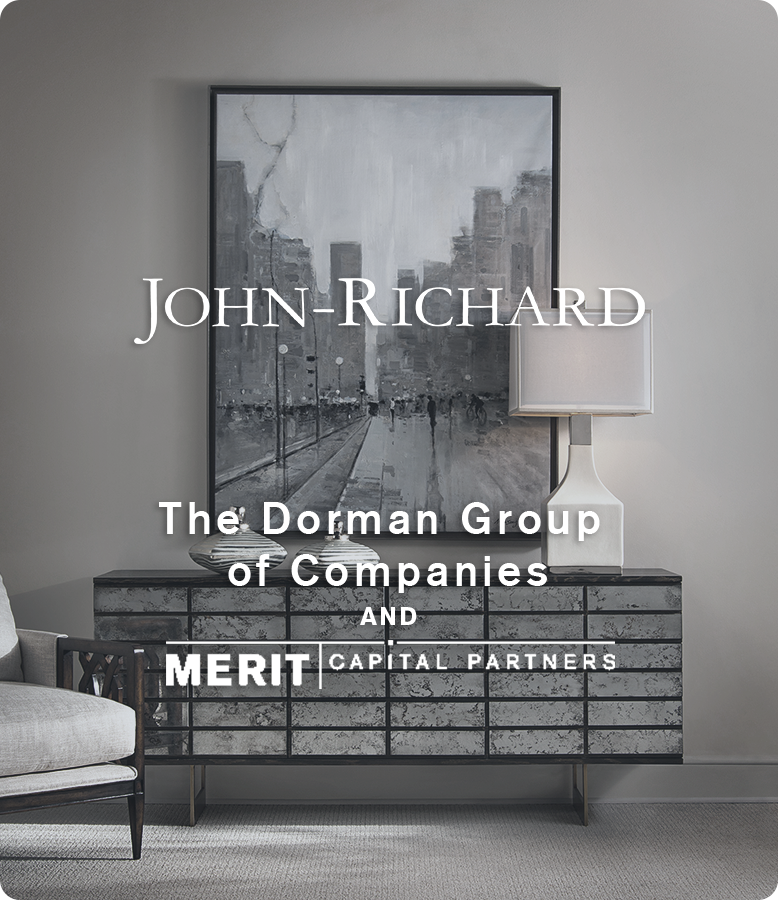 BIRMINGHAM, AL – Founders Advisors ("Founders") is pleased to announce that John-Richard, a leading designer and manufacturer of high-end home furnishings, has been acquired by The Dorman Group of Companies in partnership with Merit Capital Partners and CEO Alan Galbraith. The transaction was completed in October 2020 between the partners and Alex Malouf, founder of John-Richard, and the Malouf family. John-Richard was advised on the transaction by principals of Founders Advisors.
Headquartered in Greenwood, MS, John-Richard designs and manufactures high-end home furnishing products, including occasional furniture, lighting, wall art, mirrors, botanicals, upholstered furniture and other home accessories. Malouf founded John-Richard in 1980 as a sideline business to Malouf Furniture, one of the largest retail furniture operations in the Mississippi Delta. The original company employed five people and was housed in a 10,000-square-foot warehouse. Since then, John-Richard has grown internationally to include offices and factories in Vietnam, India and China, with a vendor network across the globe. The Company also operates a showroom location in High Point, NC.
"I am extremely grateful for the opportunity Alex Malouf gave me more than 15 years ago when I joined John-Richard," said Galbraith. "Working with Alex has been an honor and an exciting journey. I was tasked with transitioning the company from an entrepreneurial family business based in Greenwood Mississippi, to the multinational luxury home furnishings company it has become today. The future for John-Richard, even in the challenging times of a global pandemic, is brighter than ever."
John-Richard founder, Alex Malouf, said, "The Founders team did an excellent job; their expertise was crucial in marketing our business to the right suitors, negotiating the deal, leading us throughout the process, and getting the transaction closed."
John Sinders, Managing Director at Founders, said "It has been a privilege to work with Alex and his impressive team. We are delighted to have been able to serve on this transaction, and we look forward to seeing the future success of John-Richard."
About Founders Advisors, LLC
Founders is a merger, acquisition, & strategic advisory firm serving middle-market companies. Founders focuses on helping companies across technology, business services, consumer, energy, healthcare, and industrial industries. Founders' skilled professionals, proven expertise, and process-based solutions help companies access growth capital, make acquisitions, and/or prepare for and execute liquidity events to achieve specific financial goals.
About The Dorman Group of Companies
The Dorman Group of Companies are part of a single family office that manages investments and various activities on behalf of the Dorman family. Investments and acquisitions are made in both private and public markets with companies and assets at every stage of the investment cycle from start up to mature operating companies. For more information, please visit www.dormangroupofcompanies.com.
About Merit Capital Partners
Headquartered in Chicago, Merit Capital Partners has raised over $2.2 billion of capital since 1993 through six institutionally sponsored limited partnerships. Merit invests both equity and mezzanine capital in middle-market companies. For more information on Merit Capital Partners, please visit www.meritcapital.com.