Marketing Technology Q3 2022 Market Update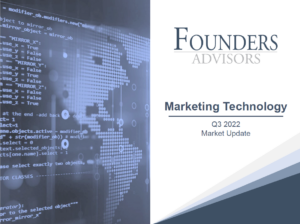 In the Marketing Technology Q3 2022 Update, we highlight public market trends, M&A activity, and the most active buyers/investors. We also share key performance indicators and valuation trends for three sub-sectors within the MarTech space.
For owners and operators, we delve into the topic of deferred revenue and how it impacts a seller's transaction proceeds. We also include our MarTech valuation scorecard which captures the most important factors that influence buyer and investor interest as well as how certain metrics dictate whether the valuation model will be based on a revenue or EBITDA multiple. 
Lastly, as a part of our interview series, we have a Q&A session with M&A attorney Jason Cummings, Partner at Morris, Manning & Martin, LLP, on S-Corp Election Considerations. Many companies make the IRS election to be taxed as an S-Corp, so we address a few key nuances to keep in mind as you contemplate a transaction process. 
If you or someone you know has questions about the MarTech sector, valuations, a potential transaction process, please feel free to reach out to Brad Johnson at bjohnson@foundersib.com.