Strong Year & Outlook for MSP M&A
Despite headwinds facing the broader economy and M&A activity, MSP and IT Services M&A remained strong during 2022. Over 800 M&A transactions closed in the U.S.,~45% were private equity-related and ~55% were strategic acquisitions. Even with high levels of M&A activity, the MSP market remains highly fragmented, presenting an opportunity for acquirers to continue consolidating the market, expand service offerings, and ultimately achieve greater economies of scale. Given the high volume of private equity-backed platform acquisitions in 2021 and 2022, 2023 is expected to be a strong year for add-on acquisitions as platforms seek growth through M&A, presenting exceptional exit opportunities for MSPs of all sizes.
Valuation Drivers in Managed IT Services
Elevated M&A activity has driven valuation multiples to show considerable expansion over the last 36 months for MSPs exhibiting strong metrics.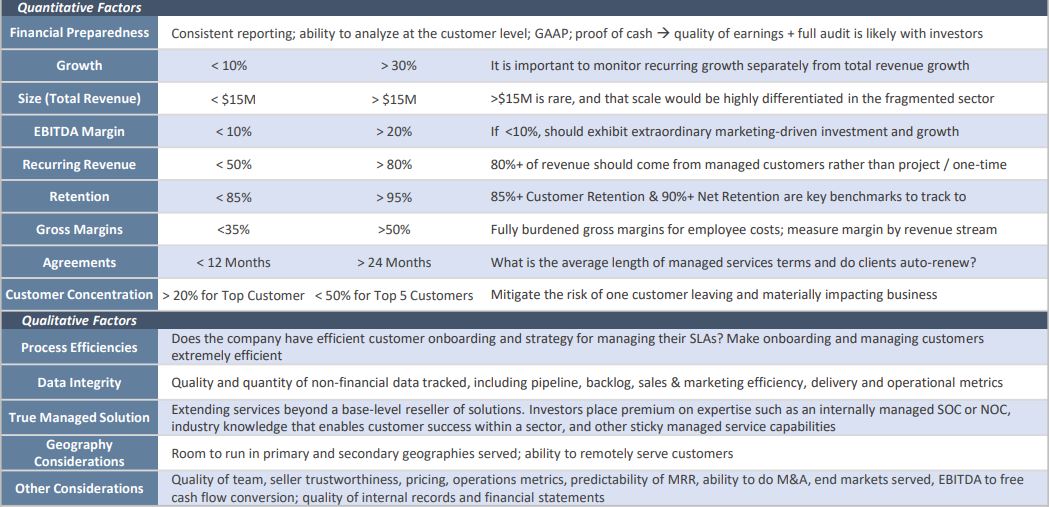 Revenue Stream Impact on Valuation for Managed IT Services
Revenue composition remains a critical driver of valuation for managed IT service providers; the below visual displays how the investor community views varying streams of revenue in terms of value and considerations influencing ultimate viewpoints.

If you or someone you know have questions regarding anything discussed, or the general SaaS marketplace, please feel free to reach out to Zane Tarence, Partner and Head of Founders' Tech & Business Services Group.