Consumer Newsletter: Q1 2023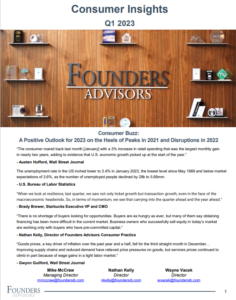 In this edition of Founders' Q1 Consumer Newsletter, our team provides valuable insights on the current marketplace, including seemingly positive outlook for 2023 on the heels of peaks throughout 2021 and disruptions in 2022. We also discuss key indicators and takeaways from the past quarter, a middle market M&A overview, current buzz around the marketplace, and public company operating statistics.
We also touch on insights from industry experts, including:
"Goods prices, a key driver of inflation over the past year and a half, fell for the third straight month in December… Improving supply chains and reduced demand have relieved price pressures on goods, but services prices continued to climb in part because of wage gains in a tight labor market." – Gwynn Guilford, Wall Street Journal
"When we look at resilience, last quarter, we saw not only ticket growth but transaction growth, even in the face of the macroeconomic headwinds. So, in terms of momentum, we see that carrying into the quarter ahead and the year ahead." – Brandy Brewer, Starbucks Executive VP & CMO
If you or someone you know has questions regarding the above, or the general consumer marketplace, please feel free to contact Mike McCraw, Managing Director of Founders' Consumer Practice.