Marketing Technology Market Update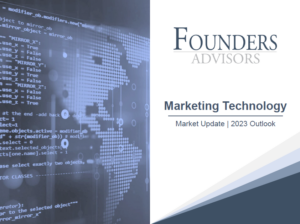 In the Marketing Technology 2023 Market Update, we highlight public market trends, M&A activity, and the most active buyers/investors. We also share key performance indicators and valuation trends for three sub-sectors within the MarTech space.
As a part of our interview series, we have a Q&A session with Vik Thapar, Managing Director of Cypress Growth Capital, LLC. With over 20 years of experience in spanning venture capital, private equity and information technology consulting, Vik gives business owners insights into royalty-based growth capital.
If you or someone you know has questions about the MarTech sector, valuations, a potential transaction process, please feel free to reach out to Brad Johnson at bjohnson@foundersib.com.