Power & Infrastructure: Q3 2023 M&A Update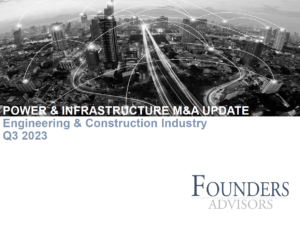 In this edition of Founders Power & Infrastructure M&A Market Update for Q3 2023, our team highlights trends in the marketplace, including, deal volume (strategic and financial), a look into select financial transactions, the representative E&C buyer landscape, valuation trends from the past quarter, and access to our Power & Infrastructure assessment software that scores companies on enterprise value. Visit the Investment Grade Assessment portal and use discount code: #MU52022 when you sign up.
A summary of M&A activity in Q3:
Engineering and Construction (E&C) M&A transactions have increased from 67 in 2015 to 179 in 2022 U.S. Private Equity firms, referred to hereafter as, 'Financial' buyers, represent ~56% of the M&A activity.
Buyers have favored industry segments with long-term secular tailwinds such as ongoing federal funding support for the construction sector as well as future residential construction demand from the millennial generation. Furthermore, supply chains look to rebound from previous pandemic delay resulting in an increase in contractor profit and a decline in cost of materials.
Q1 2023 / Q2 2023 deal volume relative to Q1 2022 / Q2 2022 has been low due to rising borrowing costs and inflation.
If you or someone you know has questions about the Power & Infrastructure M&A market, feel free to reach out to our team.